Holidays, shmolidays.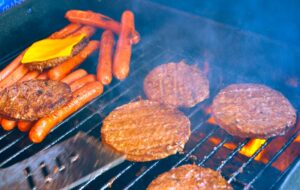 We all know that holidays don't necessarily mean celebration. They could mean ust another day in the life. This year they might mean just another day in the life because of the boys football schedule instead of the fire schedule. Yeah, that's how our weekend is going.
For once and probably the only time ever, he's off this holiday weekend. Today is a K day so it's not something he's going to give back as vacation. But he's not past giving it up for OT if they want to call that out 😉
We don't typically do anything for Memorial or Labor day weekend. The traffic on the highways is just too crazy. Plus, why would we want to pay extra for the holiday weekend campsites? We are so cheap like that. Then you have the packed campgrounds themselves.
This year is odd that he has the K day. His original plan was to go to Ellensburg for the annual rodeo today. But that changed when we got the football schedule. It worked out ok because the neighbor needed help quickly today as they are moving two families into one house TODAY!
The rest of the weekend is just normal schedule. Sunday we have nothing planned and no reason to set the alarm. GLORIOUS! Monday will be just another day. I couldn't come up with any good reason to cancel fitness class in the morning and the boy has practice that night. We'll just enjoy the sunshine and the last few days before high school starts.
Anyway, holidays.
They don't mean the end all be all to us. When he was a volunteer we never knew if he'd be home. We'd have the party at our house so he could leave on calls if needed. My Mom had to learn to deal with it. Since we have 6 sets of parents between the two of us, I had to get over the actual holiday being the important day many, many years ago. It drove us crazy trying to get to all the grandparents houses in one day. lol So I was already in training for the holidays being taken away.
We got lucky and our friends are mostly on our shift so we can plan holiday get-togethers on any day. We have some holiday traditions but nothing for labor day. It's been an odd summer because everyone's been so busy. Less BBQ's than normal and we've barely hosted anything.
How do you work out the holidays? Do you celebrate holidays with the fire family?