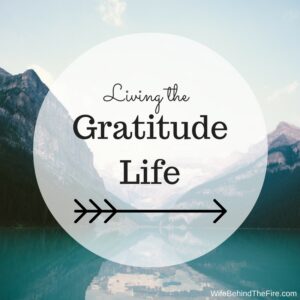 Your outlook on a given situation sets the tone – you get from life what you give. Ask any firewife, and I'm sure they can rattle off a long list of cons to living the firelife. If you dwell on those negatives, the negativity will begin to consume you. The negativity can begin to spill over into your marriage and we can all imagine the aftermath. I am a firm believer in living a grateful life and in my opinion, there are many things to be grateful for within the fire lifestyle. Here are four of my top reasons to be grateful for being married to a firefighter!
Off days during the week
One thing that I've always been grateful for from the very beginning is my firefighter having days off during the week. There are not many jobs out there with a rotation that allows for this opportunity. When our children were younger, it afforded him the option of stopping in to have lunch with them at school, as well as him being able to be present for their doctor's appointments and checkups. Once the children were in school full time, it gave us the opportunity to have dates during the day. There was no need for a babysitter! Even now as our children are grown and out of the house, being able to go to lunch with my husband or catch a matinee movie on a Wednesday afternoon is not something that everyone is blessed with.
Shift nights
Don't get me wrong, I don't always look forward to shift nights – I do miss my husband while he is on duty. However, shift nights are what you make of them! I have talked many times before about being able to have whatever I want for dinner on shift nights – even if it's just cheese and crackers and a bottle  a glass of wine. Shift nights also give me a regular opportunity to foster relationships with my girlfriends. Getting together for a dinner at our favorite restaurant, or gathering around someone's tv to watch a chick flick and enjoy some Chinese takeout are some of the ways I choose to spend shift nights. Did I mention sleeping in the middle of the bed and hogging all the blankets, because that's something to cherish every few nights!
The Brotherhood
The bond my firefighter shares with his coworkers – his BROTHERS – goes far beyond their duty schedule. I have lost count over the years of how many times other firefighters from his station have shown up to help with various household projects or emergencies. There have been fellow firefighters who have also been just a phone call away if I have had something come up while my husband is on shift. They have each other's back a the station, and that bond spills over into their everyday lives as well. Fellow firefighters are like a built in extended family – they are almost always present at family barbecues and children's birthday parties. I've always found it comforting to know he shares a bond so special with his coworkers.
Learning to be flexible
Back when we were new to the firelife, it was easy to get bent out of shape about my firefighter having to work overtime on a day we had made plans, or if a duty day fell on a big holiday like Christmas. Over the years I've learned that it's a battle you will never win. He WILL have to stay over for coverage and miss a family wedding, and there will be many, MANY holidays he will have to work. Every firewife must come to accept that it's not about the date on the calendar, but that you do make time to celebrate important events when you can. The magic of a holiday is not in the date the calendar displays, but in the time your family gathers together. I'm grateful that I learned to accept this and be flexible very early on.
I challenge y
ou to look for the positives within the firelife. It can be something as simple as taking a moment to reflect on something positive from the day while you are laying down for bed, or it could be something tangible like keeping a journal of your gratitude. I think you will be pleasantly surprised how quickly your moods and demeanor will change. You will find yourself grumbling less and less about the challenges of the firelife, and praising the positives more regularly. It won't be near as hard to dig for them as you think, there are many many reasons to be grateful for living the firelife!
Need some help with your firelife gratitude? Download the journal and join us in the group. Group is open to all in the firelife.