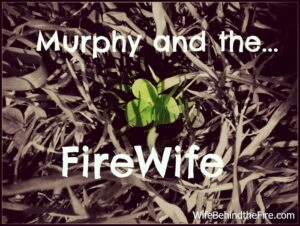 I realize Murphy's law is technically an Irish thing. Many didn't grow up knowing about him and his law. I did and I'm sure that helps me get through dumb stuff. But, if you are in the fire service…you might have figured him out pretty quick right?
Murphy's law for firewives is; if it is going to break…they will be on shift or a call. As a firewife you probably already know this.
To the point that I don't even realize it happens. I also believe in karma and we live in district. This summer when the propane tank was whistling more than dixie, he was working down the street and they made a courtesy call to fix it. Thank you Murphy for at least making that happen when he's working close.
I guess Murphy doesn't bother me as much because I DO live in district. I also live pretty close to my parents if necessary. Then there's the fact that I am not afraid to shut things down until he comes home in the morning. If I can't get ahold of him by text then it's just turn it off at whatever valve and go with it. Furnace broke and it was pile up on the hide-a-bed in the living room under lots of covers. Luckily the kids were little so we made a total slumber party of it…ON A SCHOOL NIGHT!
How do you get through Murphy invading your house?
Here's 4 tips for telling Murphy to kiss your butt.
Know where important switches are. Electrical box, water and gas shut offs are something you should know.
Fire extinguisher. I know some wives are laughing because their firefighter is anal about stuff like this. Not in this house. I don't get hovered over so I've let things slide at times.
Lock the house down. Good grief it pains me that I need to even be saying this. Every woman should know to make sure all doors and windows are locked. It saves so much aggravation and sleepless nights. Don't be a statistic on the news because it was too hot to close the windows.
LAUGH IT OFF! Most important is that you find the humor in it. If you don't then it's going to drive you crazy.
I hate to dig up all the crap that happens on shift day or during calls but it's pretty therapeutic to vent it. Have any good one's to get off your chest so we can laugh about it with you?