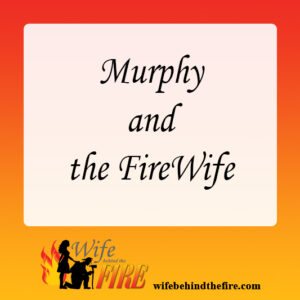 We are half way through 2017 already, how has this happened??? My calendar is half used up already!
When I saw this Murphy's Law desk calendar I couldn't resist buying it. I also bought my secret santa one. I've never had a desk calendar and there's just something cool about tearing off the page.
Then it hit me that I can blog about whatever the law is each day. Quite an easy writing prompt 🙂
Obviously day 1 is telling us about Murphy. His law is "If anything can go wrong, it will".
Hilarious, since I just said this before in my Murphy You Bastard post lol
As firewives we know well that if it can go wrong, it will. It's also going to go wrong when firefighter is on shift or a big call.
I've honestly stopped being able to remember most of the things that have broken. But some big ones are the furnace, the skylight leaking, oh wait, make that 2 skylights leaking, and the new propane tank sitting in the hot sun overheated. Innumerable little things I've put out of my head. I know there's more major stuff but I got too tired of trying to remember.
I find that so much more drama happens when he's on shift as well. That's when my family will do something crazy. The kids will decide it's a good day to push the limits. Like hey, she's a single mom today, let's gang up on her!
It's turned into laughable moments. I just send a message to the group and tell them what's being thrown at me today and they do the same. Then we can laugh it off together.
If you want a calendar of your own, hit Amazon.