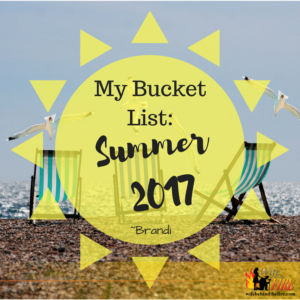 Every year as summer vacation approaches, I find myself setting high expectations for our family's plans. I have grand ideas of park picnic lunches with the kids, weekend trips as a family, and lots and lots of hours spent outside soaking up the sun.
We have two school-aged children – currently 12 and 9, as well as a 3-year-old. Summer vacation always starts off on the right foot – lots of daytime activities while my husband is at work. They are always up at the crack of dawn like they would be on school days, ready to go with lots of energy. A few weeks in, it becomes harder and harder to pull them out of bed or off the couch to get them moving and willing to leave the house. Before we know it they've spent the majority of the summer as couch potatoes and it's time to go back to school without even touching our wish list of activities.
This year it is my plan to make a summer bucket list and stick to it. Nothing extravagant or expensive – not a list a mile long. We have discussed things as a family that we would all like to do. We have come up with three items on our list that are very doable, and we are all committed to setting aside time to go through with them.
Take a trip to my husband's hometown
This spring we lost my husband's father very suddenly to cancer. We traveled back to his hometown and spent a few days there for the services with our children. Our children met a lot of their extended family that they had not had the chance to meet before. We have already set plans to make a return trip this summer for some more family time in a more positive environment. We plan to visit places that my husband frequented as a kid with his father and grandmother. Since we live in my hometown and they experience these things on my end on a regular basis, I'm very excited for them to experience these things with their dad.
A family trip to the zoo
This was one thing the kids really wanted to do. We have not been to the zoo since the two oldest kids were toddlers. We have two very good zoos within an hour of us, so it is our hope to make it to both of them. It was very important for us to let them pick at least one of our bucket list items because we wanted them excited to follow through with our plans. I would like to hit one zoo at the beginning of the summer, and one right before they go back to school. I've found it's very important to not do all the fun stuff right away, let them have something to look forward to!
Tent camping
We have only gone camping once as a family at a lake in our area however, we rented a cabin to stay in. We would love to let the kids experience tent camping as a family. With our youngest turning 3 this spring, I really think she is at a decent age for her first trip. We want to cook our food over the fire and just take the time to unwind and experience the outdoors. No electronics, just some quality family time together. Getting our kids outside and unplugged is very important to us as parents.
I'm keeping my fingers crossed that with just three activities on our bucket list we will find it easy to complete them. As a kid we really didn't have any big summer plans or trips – summer vacations are just a blur in my memory. I want to start making memories that will last with our kids. No more regrets this summer, no more hours wasted snoozing away on the couch or mindlessly watching tv.
Do you have any big summer plans for this year? Do you make new plans every year, or do you frequent the same place? I'd love to hear where you will be going with your family this year – maybe it will give us another idea for our list!