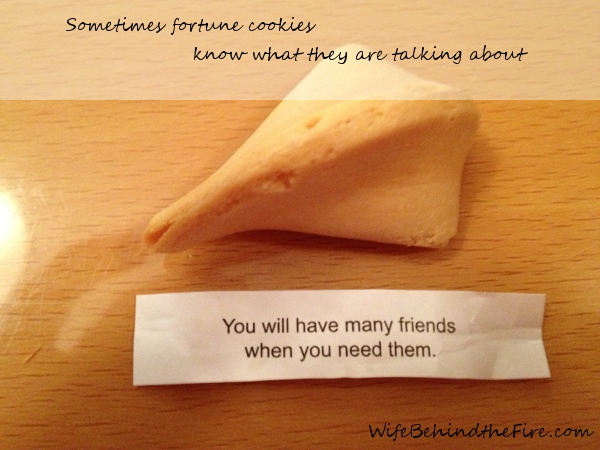 Yesterday I was smacked in the face hard. So hard in fact, I spent most of the day tearing up or even crying. Well not even just crying, I bawled my eyes out twice. I'm tearing up again right now as I write this.
I'm not a crier and I HATE crying. It's nothing about weakness, I believe it's a control issue. lol
Why am I here on this site? Why did I start a firefighter wife site?
I only have one answer for that and it's the truth.
I'm selfish and it makes me feel good
I'm not kidding, but let me explain.
I was born with a "tell me your life story" birthmark across my forehead. Until I learned to embrace it, it was the most annoying thing ever. Can you imagine being at the grocery store without your little one's for once and strangers just want to chat with you? So many times I wanted to scream, GO AWAY, this is my ME time. Considering I've always worked with the public in some fashion and enjoyed it, this is a gift I wasn't aware others didn't have. Firefighter has the same thing happen to him so you can see how we'd think it's just normal.
It didn't take long in 2012 for my FireWife friends around the world to start hitting me up and come back. But I wasn't in a good space to do that. I know how much work and time it all takes. I know groups can suck the life out of you if you let them. I especially know that I can spend 24/7 on a group I love and not get any work accomplished. I knew I wasn't up for the work and that was why I had left to begin with.
But now I've been reminded why I'm here and what my purpose for this site is.
Reconnecting with friends
While I stayed in touch with a few of my past FireWife friends, over the last 14 months I had forgotten just how many friends I had around the world. It does my heart good to be able to chat any hour of the day or night and know that someone is on our group to respond in seconds. Even better is that I know if I'm not around, the group is taking care of each other. It's become self-sustainable from all of those "old" friendships that have been reconnected.
So many new friends
My old friends had made many connections in those 14 months I stepped away. As such our group grew quickly with like minded women. We get along well and many of us hav e a completely inappropriate sense of humor.  After just 2 months, these new friends feel like old friends. It's just comfortable.
The Selfish Part
I get a lot of emails and fb messages thanking me for getting everything rolling again. I appreciate the thank yous, but it's the sentences after the thank yous that melt my heart.
I love hearing that it's helped them through a specific situation, a day of loneliness because that 72 hour shift was just a lot this time, or just a more generic IT'S SO MUCH FUN to connect. All of this in just over 2 months. These sentences after the thank you, are a big part of my selfish why.
I crave to hear more stories of how wives connected through the group, page or site and became friends.
While I get selfish pleasure out of hearing the stories, I won't apologize even once for my selfishness. Bring on more stories ladies and feel free to make me cry any time 🙂
What's the story with the fortune cookie in the picture? It's karma or kismet or some other thing. I ended up with this fortune cookie not long after I decided to start Wife Behind the Fire.  For a super generic fortune, it sure was timely.
I hope you will share your experiences with me. I mean, look at that fortune cookie. You can't argue with that right?