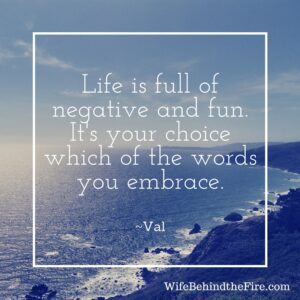 Senior year for the baby, election year, devastating world events, coaching track and did I mention it's our babies senior year?
Lately, the world has just seemed so heavy. Not everything is negative, but it's big. FB has pissed me off most days. This morning I didn't check in for over 4 hours and instantly regretted it when I did.
It's not just the world, it's my little world. Lately I've gotten more and more emails and messages from firewives going through rough times. As the site grows, I know I will continue to get more. I love that and if you need an ear or shoulder, please contact me asap.
Listening to others struggles means I have no room in my currently, over busy schedule for petty bullshit. Reading the pettiness leaves me angry. Which makes me more angry at myself for allowing that to happen. FB really seems to be full of it lately doesn't it? I can tell I haven't taken a break from the social media site lately. I have to figure out a way to remedy that without going completely off facebook. With a busy group and page, that's just not an option. I do try to check in with the specific apps, but it leads to me opening the regular fb too. I'm not much on willpower lol
Lately I've been unfollowing those on my friends list or other pages that are full of drama and extremist views. I haven't unfriended them, just unfollowed for now so I don't see their status updates. Maybe in a few months or after the election I can pick them back up again. Or it will be so nice to not read the negative that I just leave them behind the scenes.
We hear so much negative in the firelife already. I don't like to be bombarded by it everywhere I look. Sadly, most fire pages I follow are only about the negative. Hell, on here we go through periods of too much negative. It's a rough life and we all need to vent, but it's not a horrible life and we need to remember that.
I know I'm needing a break from those negative places. I want to focus on all the fun that is going on right now. Life is in major changes and it's exciting. Emptynest about to happen, good friend having a baby when we become emptynesters and testing for promotion. AHHH, big things!
How am I going to combat the negative everywhere? Well, my favorite thing to do is ignore it. That's not working right now. As I said, I'm clicking some people and places off so I won't see them. Obviously, I need to get more creative…
Create a blog post with a list of all the great things going on for us right now
Brainstorm positive aspects of the firelife to share
Plan a day when I put all electronics away and 100% unplug
Schedule a brunch or lunch with some girlfriends and enjoy the laughs
VACATION! This one is coming up in a few weeks of our anniversary 🙂
Turn the damn news off
Go back to doing something just for ME
There's a few quick ideas for myself. Some will work for you as well.
What do you do when you need a pick-me-up or notice that everything around is too negative?