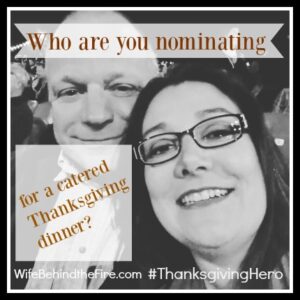 I know it's going to be a surprise, but I nominated my firefighter for the Thanksgiving Hero contest. lol Ironically, he is working this year on Thanksgiving. The contest came on the perfect year.
In case you missed my initial post announcing the contest, La Brea Bakery is running a Thanksgiving promotion where we can nominate our "Thanksgiving Hero". Not just firefighters, but people we know and love who regularly work on Thanksgiving serving others. For example: firefighters, police, waiters, etc. La Brea Bakery will deliver fully catered meals to 5 finalists across the nation on Thanksgiving. Submissions close Nov 15th 2015, so you only have 3 days left to get your nomination in.
I think it might embarrass him a little if he wins. But, I know he'd love the catered meal so they don't have to worry about cooking that day. That will make up for any quick embarrassment he feels. I stuck to a quick essay for his entry. " Holidays are just another day to a firefighter. I'm thankful for his big heart and his want to help others." It's difficult not to go on and on and that's why I have a blog right?
Having 3 sets of parents, the holiday day itself became impossible to celebrate with everyone. That really trained us for the firelife. We have always done a different day over Thanksgiving weekend with at least one parent, now we sometimes do that in our own house. Our family dinner will be on Friday this year and we're all looking forward to it.
There have rarely been times I can remember him grumbling about working a holiday. It's just the way the schedule falls. We try hard to make sure all days are special and not just the holidays themselves.
As he works on Thanksgiving, they may end up with cold food or overly dry food when it's been reheated a few times. While going on calls, they could be at houses that big groups of families are at and they have to help someone. I can't even imagine walking into the emotional mess and getting the job done. But, that's what he and so many others do daily. Thanksgiving won't be any different.
Have you nominated your firefighter or someone else in your life that will be working on Thanksgiving this year?
It's really easy to enter, but let me walk you through it just a tiny bit. I was confused a little bit on the wording. HOWEVER, if you mess anything up, just hit the link to make changes. Yes, I know that because I used the link to make changes.
How to enter!

Go to the contest entry form.  Upload a picture of you and your nominee that you won't be able to spend Thanksgiving dinner with. Then in the caption your hero box, write a quick 100 word or less essay telling La Brea Bakery about your Thanksgiving hero. You'll then fill in names and such, super easy to figure that part out.
Submissions must be received by November 15th 2015. Finalists will be announced November 17th 2015, and then the public will vote for their favorites through November 20th 2015.
I hope one of our readers makes it to the finals so we can start a voting campaign.
Instead of talking your ear off more about the contest…here's a quick video

La Brea Bakery artisan bread is sold in over 7,000 retail outlets across the US.7,500 accounts (retail outlets and chains) nationwide.
For discounts and product updates follow La Brea Bakery on Facebook, Twitter, Instagram and Pinterest.
This post has been sponsored by Single Edition Media on behalf of La Brea Bakery.