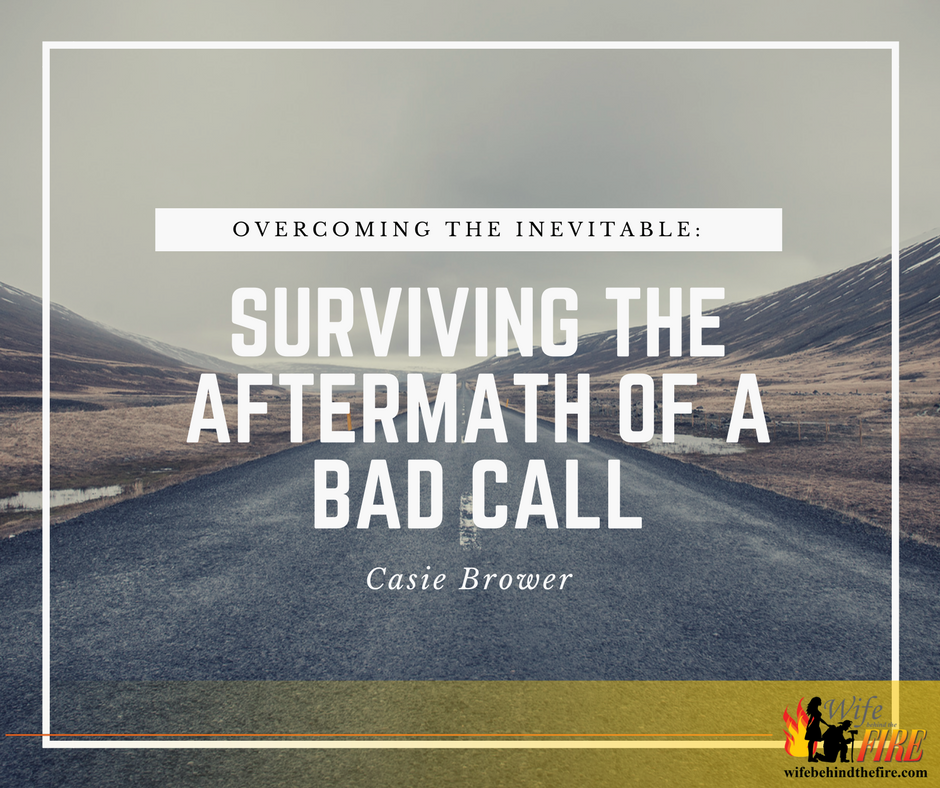 When my husband made the decision to become a firefighter, my first thoughts could be described as: "Sexy – Firemen – Calendar – Yum – Hero." Thinking back, I laugh at my incredibly selfish motives when I encouraged him to get into this industry. I mean, he loves it. But, I only thought of all the positives. It wasn't until a couple weeks later when I started thinking about what he would really endure during his firefighting career, I got a little overwhelmed.
My husband has always had such a big heart for as long as I've known him. That's why I knew he would make a remarkable firefighter. When this thought came in my head that his sweet, compassionate, and genuine soul may be crushed by some of the calls he responds to, I started to panic a little bit. It wasn't that I didn't think he could handle it, I was just so worried that the job might change who he was. A couple years into his career and I can honestly say that everything about him has changed – in a good way, though.
Looking back, my hesitation may have been a reflection of my own mental health issues. For as long as I can remember, I have struggled with some personal demons that live deep in my head where no one else can go. Nothing debilitating enough to impair my ability to live life, but enough that it affected my life (and the lives of my loved ones) in more ways than I can count. For several years, I let it overcome me and those were some of the darkest and loneliest years of my life – I wouldn't wish that on anyone. The pain was so great that I couldn't see any options or a way out. Fortunately, with the support of many, I got my shit together and reconnected with my husband (back then he was just a high school acquaintance) and my life really began. I can easily say that my husband changed my life – maybe he didn't "save" my life, but he brought me back to life – And for that, I will be eternally grateful for him.
I think that's why I feel so responsible for him, like I have to be strong for him when he can't. I owe him that, don't I? I imagine most fire wives can relate to that in some way.
Its no coincidence I ended up married to a firefighter, I was meant to be here.
My husband started his firefighting career as a volunteer for the local rural department that we lived close to at the time. He spent a couple years running calls with this fire protection district, and it was in that time I realized how our lives were going to change dramatically because of his newfound passion for firefighting.
I was heading home from an out of town work trip last week, and found myself passing the exit to our old house. We have since moved to the district my husband works for full time; not because he works there, that just happens to be where we found the place we wanted to call home. There is a truck stop off the interstate that has a motel attached to it and if you are thinking "gross," then you are spot on. They ran a decent amount of calls at this department – structure fires, medical calls, motor vehicle accidents, brush fires – a little bit of everything.
I can think of a handful of calls that were related to this particular truck stop, most of which were – you guessed it – suicide calls. It wasn't until I drove past that I realized I was crying. I was instantly reminded of the first time my firefighter came home from a call and I could feel the effect it had on him. It was a successful suicide attempt, which I guess doesn't even qualify as an "attempt" since it was successful.  My husband was the only EMT on scene prior to the ambulance arriving – I'll let you connect the dots. The man had chosen pepperoni pizza and cheap beer as his "last meal." I'll just say this: we didn't eat pizza for months, and even today, pizza still reminds me of the man I never even met. I can only imagine where my husband's mind goes when he smells it. This call was fairly late in the evening, and I remember lying in bed awake until after midnight waiting for him to get home.
It's funny how you just know when it's a bad call. You know, the calls that will forever be branded in their memory. The calls that are stored in a special place in their heads – that place where stuff goes and doesn't ever get out. I kept waiting for him to get home and finally I heard the garage. I laid in the dark and remember he came in the bedroom, told me he loved me, and said he needed to take a shower. I still laid there awake, and after his shower, he got into bed, and he was crying. I haven't seen him upset like this after very many shifts (or calls when he was a volunteer), but this call in particular happened about a week after he obtained his EMT license and I think it may have been an eye-opening experience that showed him some of the real situations he might face in his career. It took things from textbooks and practicals to seeing death first hand, which I can imagine would be difficult for anyone. Seeing a grown man cry is a very unique feeling, especially when you feel like you are responsible for taking his pain away. In this industry, if you've never felt that feeling, just wait – it will come, and it will happen more than once. It was this night in particular that reminded me how he impacted my life and helped me overcome some of my own personal mental health demons.
And it was this same night I realized that life as a firewife would change everything – and even though he was the one running toward the fires, car wrecks, and emergencies – I would have to be the strong one at home.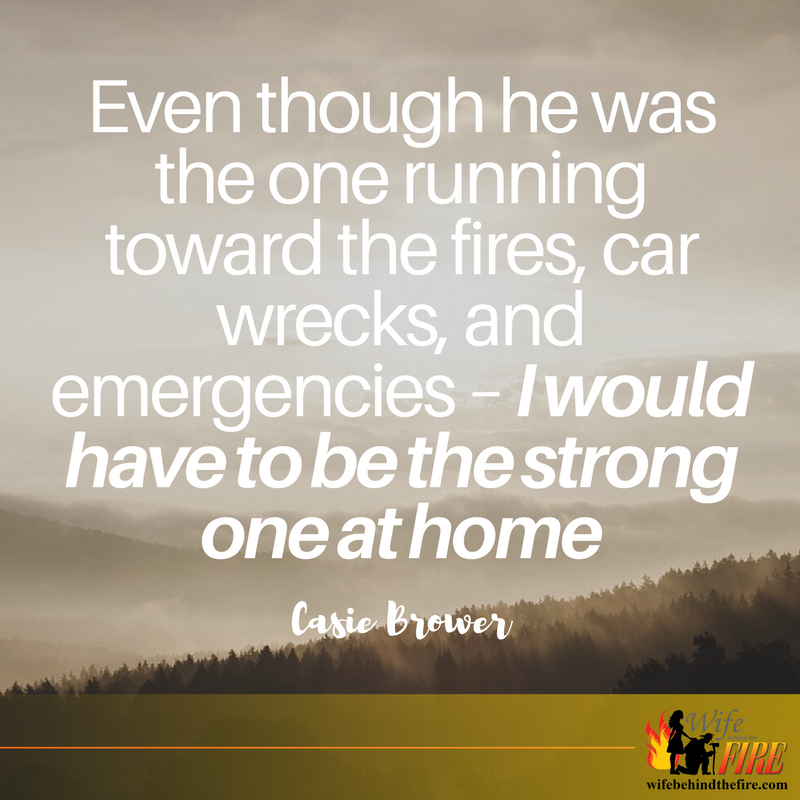 When my husband got started in his firefighting career, I honestly never thought it would change me. But, it has. Being married to a firefighter obviously has its perks (the schedule, the people, the pride), but, it also segregates you from anyone who doesn't live the lifestyle we do. It's hard to explain, but the best way I've come up with is this: When I hug and kiss my husband before he leaves to go on shift, it is very likely he may not return the same person he was when he left. These calls change who you are, how you handle things, your outlook on life, & will shake you to the core. These calls will affect our family, our children, & our marriage. These calls will chew you up & spit you out in little pieces – But, it is possible to be proactive and be prepared for when shit hits the fan.
Post-traumatic stress disorder affects everyone differently, sometimes fatally. It's so easy to bottle up the hopelessness, loneliness, & anger with no intentions of ever letting it out.
 I didn't say anything to my husband at first about crying when I drove by that truck stop other than I let him know I was passing it in terms of how long until I would be home. I wanted to, but I didn't really know how. The next morning, I was doing my early morning workout (he was at his part time job) and I heard them say there was a special feature about firefighters and PTSD so I set a recording. While we were sitting down eating dinner, I told him if he didn't mind I wanted to watch it since I had missed it earlier. It focused on a firefighter sharing his story about a call that was directly responsible for his mental health issues. I remember him saying that 99% of the time, he has the best job in the world and that 1% of the time he wishes he was anywhere else but there. I was surprised at how focused my husband was when watching this interview. But, the point of the whole segment was to help break the "stigma" of PTSD and the "weakness" that is often associated with it.
After it was over, I asked him if he has ever felt like that after any calls or if he knows anyone who struggles from any calls they've been on. His instant response was, "You've literally seen me come home crying before." True, I have. But, that's why I'm bringing this up – I needed more than that, so I kept asking questions. I needed to know if the feelings I was having were feelings he struggled with, too. It was shocking to me how easily he opened up about it and told me that he talks to his captain after calls, about their "debriefing" process, and how they do a good job of keeping the line of communication open for anyone who has a difficult time coping with anything. It was then that I told him I had driven past the truck stop a couple days before and that I had started crying. He sighed, like he was letting out this big breath of relief, and told me that's what he thought of when I told him where I was the other day. It's almost like he thought I hadn't remembered – But he was so, so very wrong. Those calls are ingrained in my heart just like they are his.
And after that, we had a really encouraging conversation and discussed a game plan for when he experiences something he can't overcome alone, with me, or with his crew. Notice, I didn't say "if" he experiences something, I said "when." Let's just be honest with ourselves here – we know that day will come. We hope it never does, but secretly we just know and we anxiously wait for the day when our firefighters need more strength than what we can give them.
Don't worry, sisters. We are in this together.
It can be tough trying to figure out how to be a support person for your firefighter – especially since everyone is so different when it comes to feelings. During my first few years as a fire wife, I have learned some valuable tools that have been helpful when communicating with my husband. My husband doesn't suffer from PTSD, but he may one day. His life is affected by his job, and I'm trying to be a constant line of communication for him. As the wives behind the fire, we know all too well how quickly everything can change. The mental health of a first responder can change in an instant, and you may not even know right away. Take a look at some basic suggestions for helping your firefighter overcome the inevitable:
Let your firefighter decompress. Don't wait by the door and demand he give you all the details – when he's ready, he will come to you.
Be a good listener. As women, we have an opinion about everything. Keep your opinion at bay and just offer him an ear (and maybe a bear hug or two).
Provide a comfortable environment – let your firefighter know he can always talk about things with you, no matter how uncomfortable it might be. I tend to believe that when we are uncomfortable, we are experiencing growth, so make it into a good thing.
Constantly reassure your firefighter that you love them, you support them, and you are proud of them.
Encourage communication. That doesn't mean he will always want to talk to you, and that has to be okay. Whether he wants to talk to you, the department chaplain, one of his fire brothers, or a professional – let him do what he needs to do & support him along the way.
Don't forget to take care of yourself, too. It's easy to focus on "fixing" our firefighters and not realize the impact these calls have on us. I would suggest talking to other fire wives, simply because they will be able to relate and have most likely had similar experiences.
As fire wives, we tend to get invested in the calls which usually results in us becoming emotionally tied to them as well. Be a good friend and good spouse to your husband, and let him know that he has so many support options. Get rid of the "mental health" stigma – Let him know that talking about it makes him stronger, not "weak" or "unfit for duty." Above all else, be strong for your firefighter when he can't be strong for himself. It's okay to feel things – we are all human. I think its truly a false assumption to also believe that there is a fine line drawn between the calls that are "bad" or "not so bad." Everyone is impacted differently, which makes it difficult to see when someone gets a scar branded on their heart, and maybe why we can't easily see who is struggling with the demons inside their own head. We have to end the "this will never happen to me" mindset, because this is more prevalent than we often hear about. This debilitating mental illness often manifests itself in a "fight or flight" response, which is why suicide becomes a popular option to end the pain.
Don't wait for your firefighter to come home after a devastating call. Make a game plan ahead of time, discuss options before the storm hits, and let him know that no matter what happens – you will always be there to walk through the "fire" by his side.
Sharing our experiences could give another wife hope or maybe even the tools to help heal her husband while he fights a silent battle alone at home. If you are unsure of where to turn for help and don't feel comfortable reaching out to your department or local IAFF, please utilize some of these resources that are available for first responders and their families. In addition to Safe Call Now, IAFF Recovery Center, 1033 Foundation, Firefighter Behavioral Health Alliance, Suicide Prevention Lifeline and First Responder Support Network, check out your state or local resources offered to help first responders struggling with PTSD. Another organization I would like to highlight is Warriors' Ascent, a healing community based in Kansas City that provides support for military veterans and first responders in an effort to help them overcome the feelings of isolation, anger, and hopelessness – covering all costs for those who attend. Post-traumatic stress disorder doesn't have to be a dead-end road. You and your firefighter are not alone.
How do you communicate with your firefighter? What experiences have changed you and helped you develop into the strong fire wife you are today? What do you wish you would have known before getting into the fire wife life? How do you stay fire wife strong?