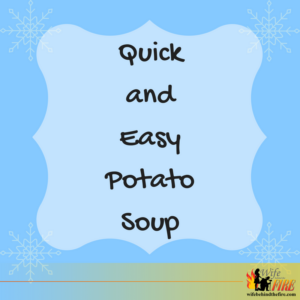 One of my family's favorite dinners during the winter months has always been soup. Soup and sandwiches, soup in a bread bowl, soup and a salad – there are many ways you can serve up a nice warm bowl of soup to beat the winter blues. Finding a good recipe that would go over well with my firefighter and me, as well as our kids could sometimes be a challenge. My firefighter and I have a little more adventurous tastes, while our children appreciate a simpler meal.
This recipe has been a favorite in our house for a while now. It appeases my children's taste buds while being a super simple recipe that I can quickly put together on a busy shift night. There are no fancy ingredients and if I have to make a run for anything for this dinner, it is usually a loaf of fresh french bread. Most of these ingredients are typical pantry staples.
Quick and Easy Potato Soup
1 package skinless smoked sausage
8-10 small to medium potatoes
2 cans of cream of chicken soup
2 cans of evaporated milk
dried chopped onion to taste
parsley to taste
salt to taste
For serving –
a loaf of french bread
shredded cheddar cheese
Peel and dice the potatoes. Place them in a large pot and cover them BARELY with water. Slice and dice the smoked sausage and place in with the potatoes. Add dried onion, parsley and salt. Give it all a good stir, then boil until potatoes are tender to your liking and the water as reduced to about half.
When the potatoes are tender to your liking, DO NOT DRAIN THE WATER. Add the cream of chicken soup and the evaporated milk. Stir until combined. Turn the heat down and let simmer until the soup thickens. Make sure to stir every so often, and do not let it boil again. The amount that the soup will thicken depends on how much water was left on your potatoes.
The amount that the soup will thicken depends on how much water was left on your potatoes. If you want a thicker soup, you can remove a little more water from your potatoes after they boil. Just remember to not remove all the water from the pot. The thickening process usually takes 15-30 minutes.
I like to serve this with sliced french bread and topped with cheddar cheese.
There are a few variations you can make to this soup. In the past, we have added corn at the end for a little more texture and different taste. You can also substitute the smoked sausage out for cooked and chopped bacon. I reserve some bacon for the end to sprinkle on top with the cheese.
However you decide to make this recipe, it has always been a hit in our family. It's easy to double for a gathering or potluck. This easily serves a family of 4-5 with a bowl or two left over. I love how quickly this comes together, and it is a filling and warm meal for those cold winter nights.
Does your family enjoy soups throughout the winter?  What is your favorite soup recipe? If you try this potato soup recipe and tweak it to fit your family, please share your additions, I'd love to give your variation a try!