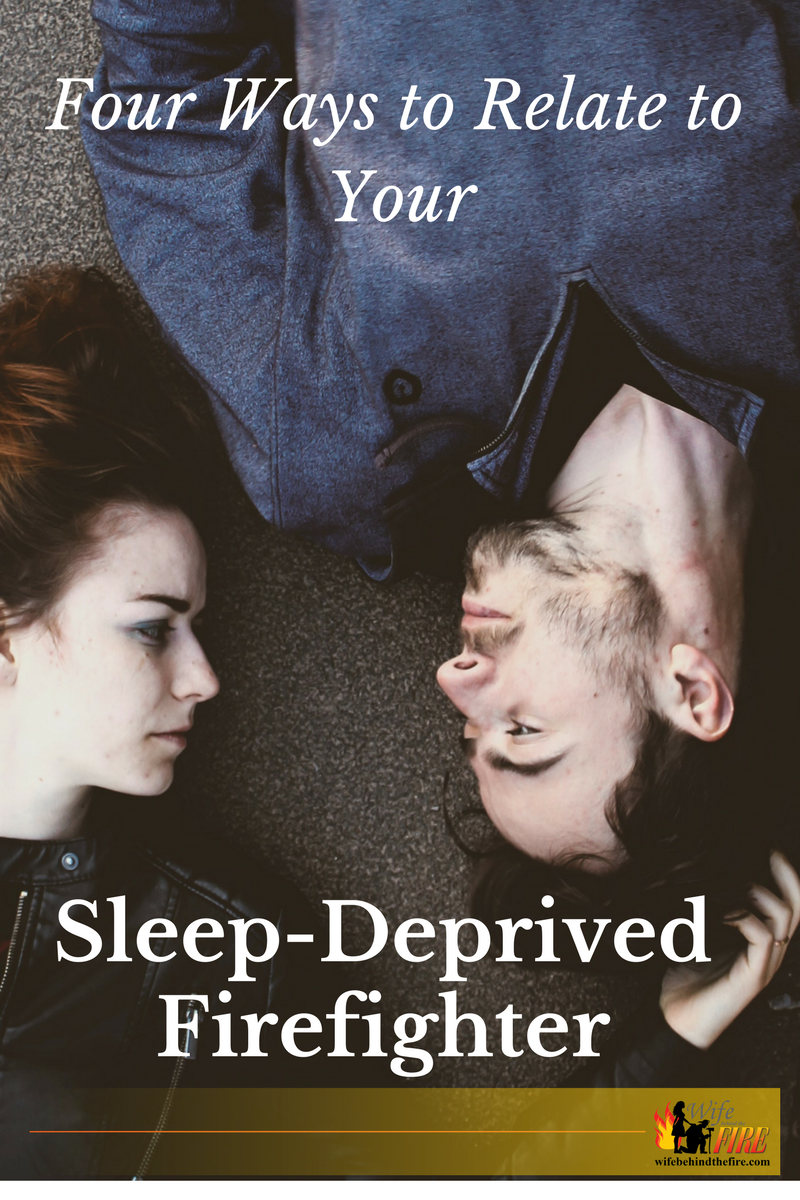 Because we live about an hour from my FF's firehouse, he never fails to call me when he is on his way home from work. I can always tell by these conversations just what type of a shift he had. Sometimes it is a quick "Hello" and "I Love You," and sometimes he just doesn't want to hang up, talking on and on about different subjects, but never talking about his last 24 hours. It's those days that I have learned how to relate to, deal with and derail my sleep-deprived FF.
Understand why your FF is grumpy and/or aloof. He is not angry or upset with you…. he just spent 24 hours in emergency mode dealing with the worst day of someone else's life. He is more than likely, running on only a small amount of sleep and fuel. Give him or her time to wind down. Don't be defensive and don't hit them with a list of things to get done when they walk in the door. Do your best to stay positive and give them some space.
As the spouse of a FF, we HAVE to be easy-going. We don't know how the last 24 hours has been for them, how they are gong to be feeling when they get home, or what they will want to do or take on. They are probably both exhausted and traumatized. I have learned over these last 20+ years with the fire department that plans for the day can change on a dime. Roll with it!
It takes a self-confident spouse to be married to a FF.  Again, your FF being distant, reserved or just plain crabby is not because of something you did. They are not mad or upset with you so know that and be willing to accept the fact that they have had a shitty, exhausting day. Plain and simple….
Being a Firefighter's wife means you have to be resourceful.  I have learned that I am more resourceful and self-sufficient then I ever thought I could be!  I can tear down walls, install flooring, and even install cabinet lighting! (You should have heard my FF's voice when I called him at work and asked him how he felt about me drilling a hole through our brand new cabinets!) Rather then harp on my FF, if it's something I can handle and it's something I think is important, I just do it myself. It gives me a feeling of accomplishment and it is one less thing for my already stressed FF to worry about.
I read somewhere that most FF's are not usually very emotional people and they tend to deal with things differently than most of us. They see and do things that would put most of us in a complete tail-spin, yet they have the ability to remain calm and make clear-headed decisions all while offering support for grieving loved ones. That is why they are good at the job! Not everybody is cut-out for such an emotional, stressful and sometimes traumatic occupation with little to no sleep. Understanding your FF and being sympathetic to his or her needs will only make your relationship stronger and more fulfilling.