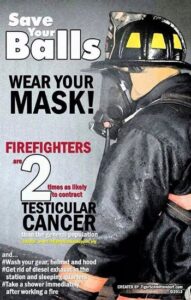 Do what?? I am pretty sure that thought just went through your head. Yes, I am talking about testicles. Why? Because Firefighters are TWO times likely to get testicular cancer than the average Joe.
Hi! My name is Laura Smith and I am married to a firefighter. I am also a surgical coordinator for a large Urology practice near my home in Virginia. My job involves sitting down with patients after they have seen the physician and setting them up for any diagnostic test or lab work and then if needed, any surgical procedure. It can be an emotional job, as you establish a relationship with each patient and their family. I have seen too many young patients and their wives being given the devastating news.
Hearing you have cancer is scary, and then to be told it involves the "family jewels" is even more frightening. I want to help educate our fire wives on the very subject of Testicular Cancer and how we can help prevent it.
Here are some facts about Testicular Cancer
Testicular cancer is the most common cancer in men between the ages of 20 and 34
A painless lump is often the only symptom in its early stages
Is almost 100% curable if caught early
Men can still be fertile and have children after treatment
Treatment does not affect ability to have sex
It is very important that men perform a Testicular Self-Exam monthly, just like we do our monthly check, they do too.
How can you, their wife, help? Remind them. The exam is very simple.
They are looking for a lump or firm area, change in the size or firmness of a testicle. They need to check each testicle and roll it between the thumb and fingers in the palm of their hand, feel for changes in each one. Check the epididymitis, (I just love spelling that word, kind of like spelling Mississippi) the epididymitis is the raised rim that runs along the top and back of each testicle. It often hurts when they press on it; gently feel each for any changes. Check the Vas, the vas deferens is the little tube that runs up from the top of each testicle, a normal Vas feels like cooked spaghetti, and feel for changes. The best time to do this during or after a warm shower.
If they or you, yes you, the wife, should find a lump or anything else concerning, get it checked out by a physician within a few days. 99% of the time, changes in testicles are not cancerous, but they still need to be checked. If anything is questionable, tests can be done to be sure.
Remember Testicular cancer is 100% curable if caught early.
I mentioned if you, the wife should find anything too, because sometimes men don't take the time to do them. If you want to be sure the "family jewels" are safe, you do the check. Add it to part of your intimate moments; I don't think they would mind.
author ~Laura A. Hamill Smith
I'd like to thank Laura for writing an important article that involves all of us wives. It's a topic most guys won't want to talk about so forcing the issue is something you may have to do.
If you have a topic that is important to you and you'd like to share, please send me an email Val(at)wifebehindthefire(dot)com
There's nothing more important than our firefighters health.