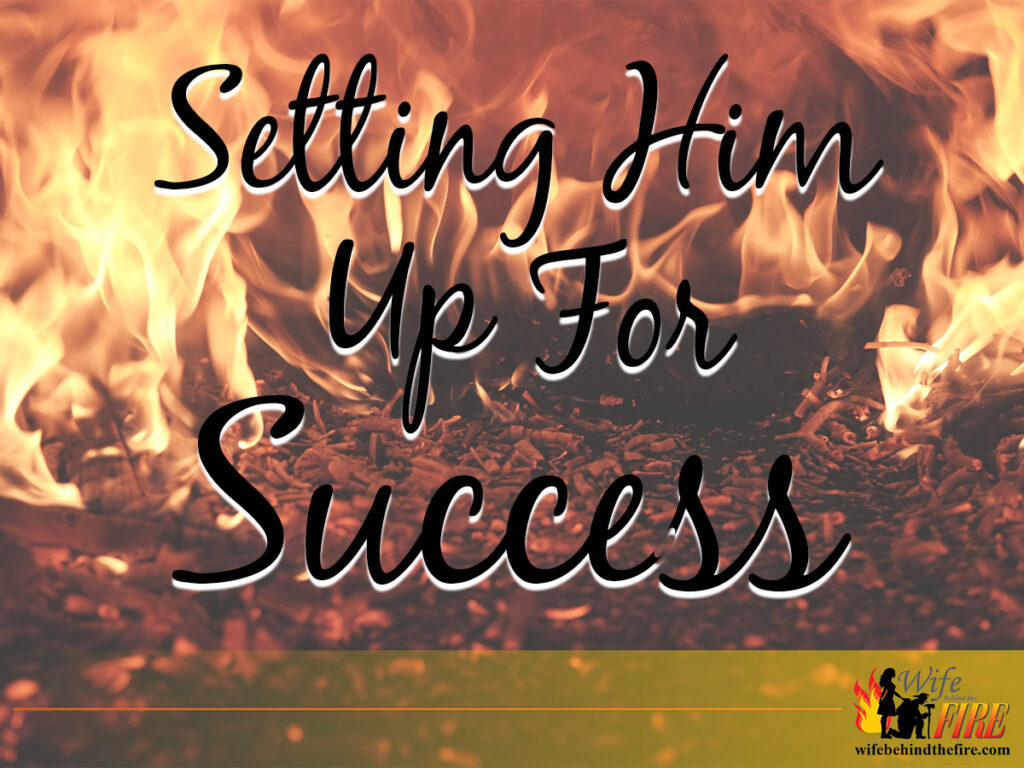 There are so many duties that we tackle as FireWives. Cleaning the home, cooking dinner, taking care of kids and working jobs outside of the home just to name a few things. One of the most important things we can do though, is support our husbands. Sometimes that means getting the laundry done and uniforms clean between shifts, sometimes it means taking dinner to the station because he forgot it at home and sometimes it means just listening to him when he's had a rough day or a rough call.  Here are a few ways that you can set your firefighter up for success…
LISTEN
It's one of the most simple things we can do.  Listen to your husband.  Listen to his joys from the job, his gripes about the department politics, his heartbreak from the difficult calls.  I know I sometimes get in the habit of tuning my husband out when he's talking and talking.  It is something that I've been working on.  If he feels the need to tell me, I should be giving him the respect of listening.  Not only will your husband be letting go of stress by talking about things, but you will be learning about your husband.  You will learn what makes him happy, what frustrates him and you'll be better able to tell when calls are bothering him to the point that he may need a professional ear to listen.
FOOD PREP
As the wife of a wildland firefighter, food prep is one small way that I can help my husband out.  He isn't always going out of state for days or weeks at a time.  Most of what he does are day-long controlled burns.  When he is called out for these assignments, it's usually short notice and we don't have a lot of time to get him ready to go.  Being gone for hours at a time, he is responsible for bringing lunch, snacks, etc with him.  One thing that he loves taking is dried fruits and nuts.  It's something that is easy to put together, doesn't require any kind of refrigeration and best of all, it's healthy!!
So when I have some free time during fire season, I like to make things like dried fruits and venison jerky.  I also plan on trying to make some homemade fruit roll-ups this year.  It's a small way that I can give him one less thing to worry about and make sure he's taken care of.
TAKE CARE OF YOU!
It's so hard when you're juggling your job, your kids and your husband that you need to take care of YOU!  Maybe that means eating healthier and getting some exercise.  Perhaps it means going to that doctor's appointment that you've been putting off.  It could just mean taking some time for yourself to de-stress.  No matter what it is, you need to take care of yourself to be able to take care of your firefighter.  We all worry about our husbands.  Don't make them worry about you!
LEAN INTO YOUR FAITH
If you believe in God, take a moment and pray for your husband.  I do this on a regular basis.  I pray for his health, both physical and mental, for his safety and for his wisdom, to make good decisions on the job.  If he's going on an out-of-state assignment or spending a week out in the woods in our home state fighting wild fires, I have no problem putting him on the prayer list for our church.  We both have a strong faith in God and a wonderful church family that doesn't hesitate to lift us in prayer when we need it.  I trust in my husband and in his training.  I know he does his best to be safe and come home to us (me and our kids) at the end of each shift.  But we all know that the best training in the world can't prevent some situations.  I feel better knowing that God is watching over him.
If you have some ideas on how to support your husband and set him up for success, please share them in a comment below.  We are a community of FireWives and we need to support each other, as well!