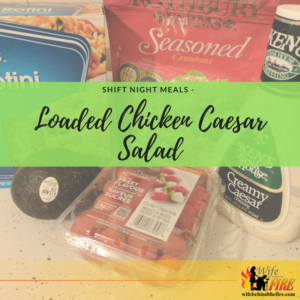 One of my favorite things to make for dinner on shift nights – a nice big salad! My firefighter doesn't mind a small side salad along with his dinner, but the idea of a big bowl of greens and veggies isn't quite his cup of tea. I take every opportunity I can, especially in the summer, to treat myself on shift nights. One of my favorites is a combination I like to call my loaded chicken caesar salad.
Loaded Chicken Caesar Salad
one package caesar salad kit
1 boneless skinless chicken breast
1 cup grape or cherry tomatoes
1/2 an avocado, diced
1 1/2 cups – 2 cups rotini pasta
caesar salad dressing
croutons
shredded parmesan cheese
I cook the chicken breast in a skillet, seasoned on both sides with pepper and season salt. While that cooks, I boil the rotini pasta. When the chicken is done, I like to slice it up and let it cool along with the cooked pasta. During this time I clean the tomatoes, which I like to leave whole and dice up the avocado. The last prep step is to shred up enough parmesan cheese to your liking.
Now comes the fun part! I find the biggest bowl I can in my kitchen. I have a few designated bowls I love for salads because they are deep and I can really load up all my favorites! The salad mix goes in first, then I sprinkle in the pasta. Next, I scatter the tomatoes and avocado, followed by the shredded cheese. I lay the sliced chicken on top, and dress it up with a few croutons. I don't like caesar croutons, so I used regular garlic seasoned ones. The icing on the cake is Ken's Steak House Caesar dressing, my absolute favorite. It doesn't take much, as you have many other amazing flavors going on in your bowl by now.
Salads are so versatile. If there are ingredients in here you don't care for, you can omit them or substitute flavors you prefer. You really can't go wrong. You can use different meats, add in fruits, nuts, etc. Whether you want a caesar salad, a cobb salad, etc – it's so easy to customize to your palate!
What are your favorite salads to make? Does your firefighter enjoy salads with you, or is it something you save for shift nights as well? I'm always looking for new toppings for my salad to try, they are my absolute favorite in the summer months!