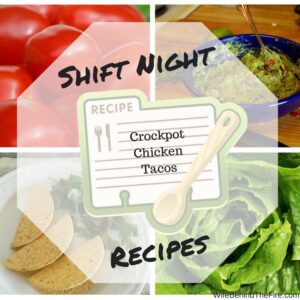 One thing I look forward to most on shift nights is dinner. There are many different routes you can approach dinner while your firefighter is at the station. If you do not have kids at home it is an opportunity to fix a meal that your husband does not care for. I have found lots of moms like to use shift night dinners to offer up a buffet to get leftovers out of the fridge. I like to use shift night as an opportunity to keep things simple – I like to have a meal ready whether the kids are home to eat or it's just me, but you will not see me dragging out pots and pans and using a mile long recipe.
I love to use my crockpot when my firefighter is on shift. It makes for simple preparation and even easier cleanup. I like that I can throw a few ingredients in when I start my day and then when dinner rolls around I have a tasty meal waiting for me. It allows for me to get errands completed, kids taken care of and maybe even a few minutes of me time squeezed in – all of which can eat up most of your day when you are on your own. I do not want to spend a bunch of time in the kitchen if we all aren't gathering together to share the meal.
One of my favorite go-to recipes for shift night using the crockpot is Chicken Tacos. This is a family favorite in our house and we have it often even when he is not on shift. It can easily be scaled back from family size to just enough for me if I need it to be. Most times I do end up making a family sized batch even if I am the only one home because it makes great leftovers that can easily be turned into another dish later in the week. I am sharing with you the full-size recipe. Feel free to cater it to your needs, whether they are big or small!
Chicken Tacos
4 boneless skinless chicken breasts
1 jar of Picante sauce – I use mild, but you can use whichever heat you prefer.
1 packet of chicken taco seasoning
your favorite taco fixings – We prefer soft tortilla shells, lettuce, tomato, cheese and sour cream
Pour a cup of Picante sauce in the bottom of your crockpot. Pour in the packet of chicken taco seasoning. Mix together. Lay the chicken breasts over the mixture. Pour the remaining Picante sauce over the top of the chicken. Cook for 6 hours on low heat. After the chicken is cooked, I scoop the breasts out and put them in my stand mixer bowl. Turn the mixer on low and your chicken will be perfectly shredded in seconds! I add the chicken back into the warm crockpot and stir it back into the sauce. Prepare your tacos with your favorite fixings! On shift night I like to mix things up and use leaf lettuce to wrap my tacos in instead of tortilla shells. This is a little too on the healthy side for firefighter, so it is a nice variation for me to enjoy.
Tacos are almost always a hit with grown ups and kids alike! With about five minutes of prep time at the start and about 10 minutes after the chicken is cooked you have yourself a great meal with little effort. If you end up making a bigger batch than needed, this also makes tasty quesadillas and a great meat addition to a southwest salad for other nights during the week. We have also used this leftover chicken for nachos – the kids loved this one.
What is your go to game plan for shift night dinners? Do you have a favorite recipe to make for yourself or you and your kids? What kinds of recipes would you like to see more of? You can never have too many options to choose from!