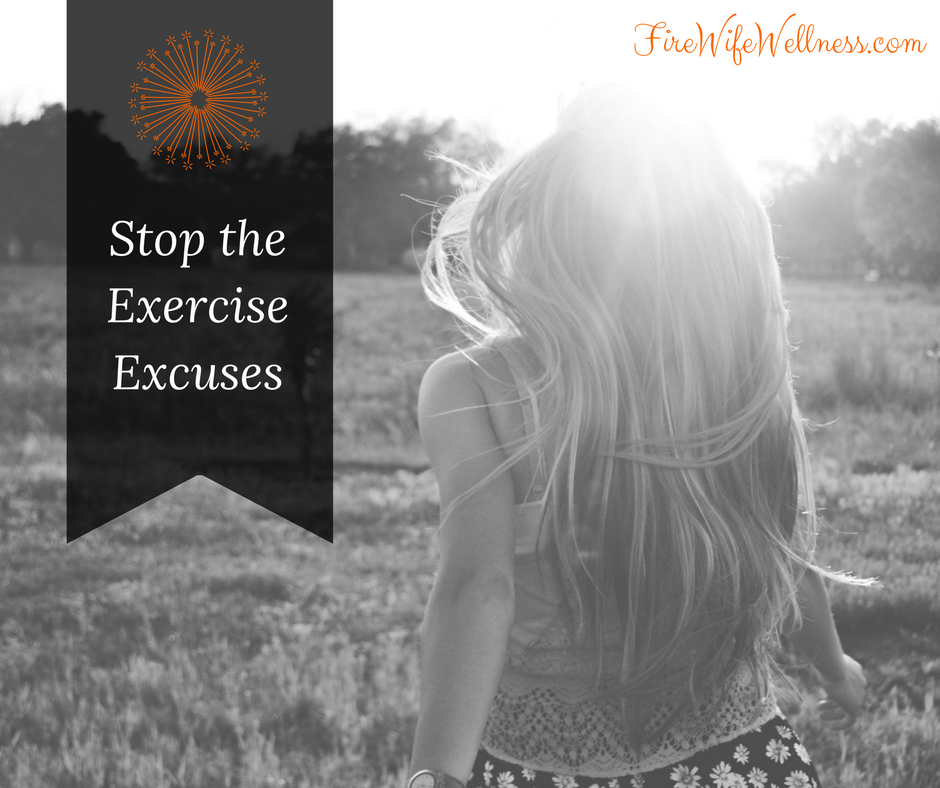 You can talk about it or you can do something about it. Either way it's a choice.
Many women say they want to get in shape and exercise more, but come up with a hundred and one excuses not to get moving. In the time you take to think of an excuse you could be on your way to the gym, out for a jog or a walk.
We all do it. It's much easier to be lazy and goof off on Facebook or watch tv. It's about choices. Get up and get moving today instead of making up another reason not to exercise. Here are some common excuses:
"I don't have the energy"
To most this will seem like a valid excuse. However, they don't seem to take in to consideration the fact that exercise actually gets you awake and energized. Believe me, once you are out there you will find your energy. If you really are constantly tired then you are probably not eating well. Try to get more carbs before you want to work out, preferably slow releasing ones which will keep you going.
If you are sluggish all day, do you eat breakfast? You've got to fuel your body if you want it to work. Otherwise your metabolism slows down and there goes your energy. Your metabolism is what gives you the energy to move. If it's slowed down then you turn into a bump on a log. If this doesn't improve then go and see your doctor to get checked out for any potential causes.
If you are like me and not a morning person, then when you are running out the door because you sleep until the last minute, grab a bar to eat on the road with your coffee. I like cliff bars
 and buy them from Amazon for the best deal. They don't have any dairy or whey and they have a good balance of nutrients. They also come in a lot of flavors so I won't get bored.
"But I want to watch…"
Most gyms have TV sets so if you have a must watch show then head to one of these instead of doing an alternate form of exercise. However, in the age of modern technology, it would be much easier for you to just record your favorite show and watch it later, think of it as a post- exercise treat.
Or, why do you have to sit while you are watching the show? Get to moving. Squats, lunges, jumping jacks, burpees, the list goes on and on for things you can do at home in even the smallest of spaces. Make those commercials work for you.
"I have to take the kids to…"
This is a fairly good excuse if you have to pull one out. I mean, how often are we firewives doing the single mom bit? But are you taking your kids to a regular class or outing? If so then arrange with another parent to alternate carpooling so that you each have a week free. That way you can use the time to do some exercise, even if it is only every now and then. If you have to watch the kids so you can't share duties, then why not take them swimming or to play football in the park? That way you will all get in some exercise and have fun together too.
My Mom had a home daycare and still exercised. Every day there was 30 minutes of quiet time. The little one's napped and the older one's sat at the table to read or color quietly. This was her break time and she put nice quiet music on and worked out. There's plenty of exercises you can do (see  those above in the tv show section) from the house so you can still keep an eye on the kids. You may only get 5 minutes that first day, but it's about teaching them that exercise is important.
"I don't have time"
Probably the most common excuse ever. If you were serious about working out, you would make time. Research has shown the best time of day to exercise is first thing in the morning. Put some shoes by your bed and set your alarm for an early morning jog. If you prefer then pack a bag with your work clothes and head to the gym. I don't know a single gym that doesn't have showers. This means you can get ready for work there and it cuts more travel time. A side benefit is you'll have loads of energy for the day.
Every one of us has the excuse that we don't have the time. Your busy day is not unique. The truth is we fill our days. You have to make the choice that exercise is your number one priority. When that happens you WILL make the time to workout. Just like you make the time to go to the doctors office when you are sick.
Whatever the excuse, think rationally about whether it is a legit reason. Exercise has so many health benefits and we all need exercise to stay healthy. If you would rather find excuses and not look after your body then so be it, none of us can make you change your mind. Normally you can find a way to exercise; you just have to compromise a little.
What's the reason you hear yourself using the most for not exercising?
Happiness is a choice and so is your health. Live with no regrets,

PS – I've found the fitbit to be a major game changer in my excuses not to workout. Having to hit that 10,000 or more step goal each day forces me away from the computer. If you are ready to stop the excuses, join the 6 Week Fitness Mission and get the accountability you crave.