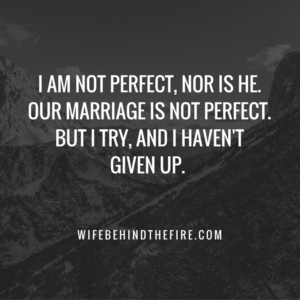 As he walked in the door at midnight last night, I wanted to yell and scream. But, for some reason I took a deep breath and mustered up half a smile. He wasn't expecting a smile and looked visibly defeated in front of me. He's been gone every night this week and it has taken it's toll on both of us…
My husband went on to tell me about his night. How the chief hung the union out to dry at his officer's meeting. How the only other officer who's a union member refused to sit next to him, who is also president. (Side note- I really want to go pull the IAFF stickers off of that guys car!) He was yelled at and sneered at. But, he stood true to his belief in the job.  This week has also had him facing a partner that wanted to lash out at him and ended with my husband convincing him he needs treatment for potential job related PTSD. This makes me proud. Two years ago, he would have poo-pooed the thought of PTSD in the fire service.
After the meeting, my husband stopped to have a beer and ran into a volunteer firefighter on the department. He ended up in a long discussion about an (almost) disciplinary issue with this guy that the volly very passionately felt was justified.
It is after 9:00 a.m. and I am laying in bed listening to him breath. I should already be at work, but don't want to disturb him. And these things are replaying in my head.
Last year at this time, I was really questioning many aspects of my marriage. I have worked REALLY hard to make my marriage better, and I have in many ways. This week has been one of those that made me want to say "F the firelife! I am so over it!"
But I lay here reflecting. Trying to think of what he's dealing with. Monday was fire training. Tuesday was shift. Wednesday was EMS training. Thursday was officer meeting.
I committed to him my support when he promoted to Lieutenant almost two years ago,  but some days it is really hard to maintain that commitment to support him. I am not perfect, nor is he. Our marriage is not perfect. But I try, and I haven't given up.
This was a guest post from a friend and I'm thankful she shared.
From time to time I have friends and sometimes strangers, send me articles to post. I know writing out issues helps a lot. If in turn it can help some others, that's amazing.  If you ever have the urge to share a story, but don't want your name associated with it, I'm happy to post it for you. Just fill out the contact form and I'll get in touch with you.
Living without regrets,