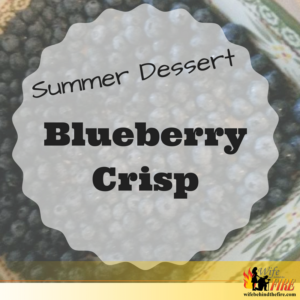 One of my favorite memories of summer at my grandma's house was watching her whip up a batch of her amazing apple crisp. She'd peel the apples and mix together the topping, never fast enough for my little appetite.
Now that I have a home and family of my own crisps are a summer staple dessert for us. I love them because you can use just about any berry, apples, or peaches – whatever suits your tastes.
The most requested version in our house is blueberry, only pulling ahead of apple by just a bit. I love to buy blueberries when they are on sale. A trick to keep your berries freshier longer in your kitchen is to immediately soak them in a water and white vinegar mixture for a few minutes, and then rinse. They will keep in your fridge much longer than usual this way.
Blueberry crisp a super easy dessert that cooks up quickly. I like to prep it while dinner is finishing up and let it bake while we eat. It is usually done cooking by the time we are done eating. That gives our bellies time to make room for dessert while it cools off enough to eat.
We like to dish ours up in a bowl and top it with a scoop of vanilla ice cream. We serve it when it's just warm enough to melt down the ice cream a little and get everything all gooey. Nothing screams summer more to me than eating warm blueberry crisp on the porch on a nice warm evening.
Blueberry Crisp
4 cups of blueberries – washed
1 tbsp lemon juice
1/3 cup granulated sugar
2/3 cup flour
2/3 cup packed brown sugar
1 tsp cinnamon
1 1/2 cups quick oats
8 tbsp butter
Place the washed blueberries in a greased baking dish. I use a 10×13 or my square baker. Sprinkle the berries with the lemon juice and granulated sugar. In a bowl combine the remaining ingredients (flour, cinnamon, quick oats, and brown sugar). Cut in the butter. When combined and crumbly, pour over the berries in the pan. Bake at 375* for 40-45 minutes.
The topping will melt down and get crispy and the berries will reduce down and get bubbly.
I tend to make another half batch of the topping and add it to the recipe because I like a little more topping on ours. That's the nice thing about this recipe – it's simple and easy to adjust to your desire whether it's more topping, more berries or a different fruit.
What is your go to summer dessert recipe?