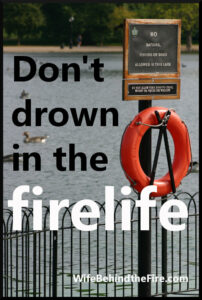 When you first dive head first in the shallow concrete pool that is the fire life, you almost drown yourself trying to get acclimated.  At least, thats how it felt for me.  I am still relatively new to the fire service, three years.  My firefighter and I are engaged… so technically, not all the way in the club.  But, I have learned a few things along the way.
1.  Don't sweat the small stuff.  Its all small stuff.  Its easy to get sucked in and start worrying about every tiny little detail.  Where he is, what he's doing… why he isnt answering his phone.  When you let go and just live your life as normally as possible, its much easier.
2.   Its still just a job.  I have seen some wives take on the fights of their firefighters as if they are living it.  In a word… don't.  Its still his career, not yours.  He probably doesn't get as invested in your job as you do his.  Step back.  Let him fight the battles and don't take on that stress.  Be a sounding board, not a sponge.
3.  Set Boundaries.  Some of us are workaholics by nature (guilty as charged), so it easy to always say yes to the job.  Set boundaries that work for you and your family.  Be mindful of when either of you are saying yes to many outside distractions.  It could be coming from both of you.  If your firefighter is vollie or vollie's outside of a career position, ask him to give you one night a week that is pager free (but make sure you are putting down your phone and stepping away from facebook when you do).
4.  Listen to his stories,  Yes, he will tell you the same batch of stories so many times that you can repeat them in your sleep… its okay.  It keeps him talking.  He may not want to talk about the bad stuff, so he may want to just ramble.
5.  Find a hobby.  Don't blow up his phone on shift days making him feel guilty because he cant be home with you… remember, he may have chosen this career… but you chose him.  This one was hard for me at first.  Mainly because I was in a new town and had no friends.  I had to find my independence again.  I have now learned to love shift days.  Big bed to myself and all the trash I want to watch on TV.
6.  Expect the unexpected and roll with it.  He is going to miss holidays, parties, graduations, births and everything else in between.  Does it suck.  Yes.  It does.  You can either suck on that sour lemon and be upset about it or you can squeeze that lemon into some vodka and go with it.   You knew this life wasn't going to be easy… whining about it doesn't make it better… but alcohol and chocolate will.
6.  Adjust like a rubber band.  There are going to be call backs and days that he is mandatoried that you are going to hate.  He cant do anything about this.  Did you ever work a retail job?  Remember that college student that called in sick and you had to go in on your day off?  Yeah.  Its like that, only he has important work to do like get cats from trees and put bandaids on boo boos.
7.  Be ready for anything.  We all have that fear in the back of your heads that the worst will happen.  Don't dwell on the "what ifs" or it will eat you alive.  Sit down, make a plan and then put it away.  Just know should anything happen, the fiirewife mafia will be alongside as fast as we can.
So those are my pearls of wisdom (with a little help from The Man)… what do you have that keeps you sane?  Add to my list.  I bet I missed a thing or two.  Just remember, its only that bad if you let be.  Now, excuse me… I have wine to drink.