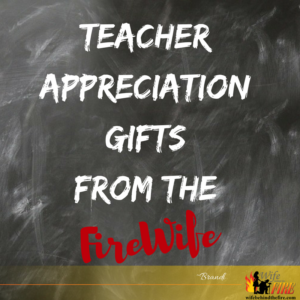 Desks are being cleaned out. End of the year assessments are being graded. Students can smell the sweet smell of summer approaching. For parents, it's the time of year we start planning teacher appreciation gifts. We are constantly searching for a new, unique idea – after all she will probably be receiving 19 other gifts. Of course you want yours to stand out!
My kids always like to incorporate our firelife into anything we do. This year they suggested doing fire themed teacher appreciation gifts. All the teachers are well aware their father is a firefighter and that I am an EMT. We spend Fire Prevention Day at the school each year helping out. After giving it some though, I agreed it would be a cute idea.
After a lot of brainstorming over past gifts, ideas my friends have used and browsing online for homemade firefighter themed gifts, I came up with four adorable fire themed teacher appreciation gifts. There area variety of gifts that would appeal to kids in any elementary grade. If you are struggling for an idea this year, give one of these a try!
Firefighter Hand Print Art
This would be a super cute gift from a younger student – preschool, kindergarten or first grade! All you need is a small canvas and some acrylic paint. Stamp a red hand print of your child's hand on the canvas. Paint a head and fire helmet on each finger and thumb, as well as arms. Draw a hose from the pinkie finger all the way to the thumb, with the thumb firefighter holding the nozzle squirting water. This is a project you or your child can complete!
A Collection of Firefighter Themed Books
More times than not, teachers spend money out of their own pockets to help stock their classroom libraries. I love gifts that meet a need or serve a purpose – what better way to do that than with some books to add to her library?! Put together a collection of firefighter or first responder story books that are grade level appropriate. Maybe attach a nice note inside each book with your child's name and year they were in her class. I'm sure any teacher would be thrilled with this useful gift!
Sweet Treats
Teachers spend a lot of time at the end of the year in their classrooms. Grading tests, putting together report cards, or even packing up once the year has ended. What better way to brighten those long days than with a box full of delicious cupcakes – of course with fire themed decorations. Put in an order with your local baker for cupcakes with flames, fire trucks, dalmatians, etc; or if you are talented enough you could whip them up at home with your child. These would be a great gift from a child of any age – attach a note that says "Being in your class this year was SWEET!"
Teacher Emergency Kit
This idea is super easy – paint a metal lunch box style box, or some container of a similar shape with a handle and latch white with a first aid cross and "Teacher Emergency Kit" on the front. Stock the kit full of small essentials like a gift card to an office store, a pack of gum, breath mints, a Tide-to-Go stain pen, band-aids, nail clippers, small candies, tissues, lip balm or any other small items that could come in handy to a teacher at the spur of the moment. This would look adorable sitting on her shelf in her classroom as a decoration, and come in handy at a moment's notice!
Do you give teacher appreciation gifts at the end of the year? Have you ever given a fire family themed teacher gift? What has been your favorite teacher appreciation gift your family has given? Do you have any plans for this year's gift? If you give one of these fire themed gifts this year, please let us know your teacher's feedback!