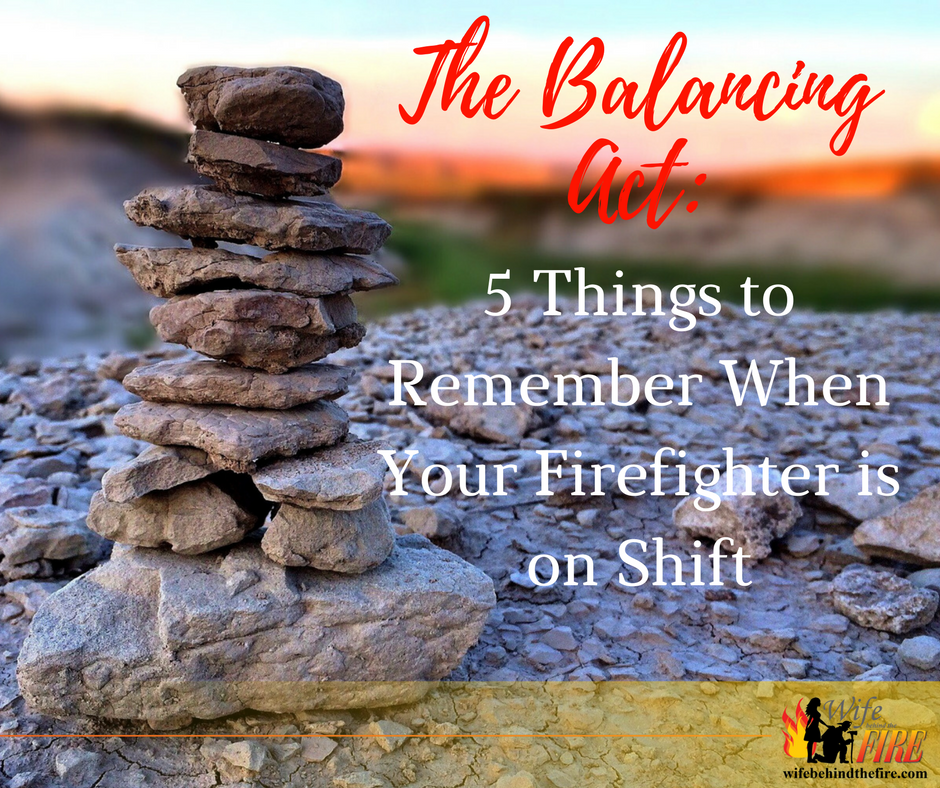 There is so much more to being a firefighter's wife than most people see. And as we all know, balancing everything while our firemen are on shift can be tough. And by tough, I mean sometimes it's the most difficult and overwhelming thing we've ever done before. On top of that, we are doing it alone.
To anyone who is new to this lifestyle – it gets better (and easier). And to anyone who is having a tough time doing it all – hang in there. I'm going to give you a few tips of how I've learned to balance being a fire wife, a mother, a homeowner, and working full time all at the same time.
Proactive Versus Reactive
Have you ever heard the saying about how being proactive allows you to control a situation, but being reactive allows the situation to control you? Welcome to the life of a firefighter wife. Honestly, I find the majority of time, the crazy fire schedule is bearable as long as I stay prepared and maintain a proactive approach. Keep a ready made baby bottle in the fridge at all times. Do laundry on his days off, so you don't have to scramble to do another extra chore when you have less hands on deck.
But mostly, be prepared for any off-the-wall situation to arise while your firefighter is on shift. You know, the things that never happen when he's home? Like the pipes bursting, your kids getting the flu, your car breaking down, the furnace going out, the house being struck by lightning (this one has actually happened to me before), or your dog getting hit by a car. It's not fun to talk about – But in all reality, as fire wives, we know shit will hit the fan the minute he walks out that door and the storm will pass conveniently right before he returns home. But you know what? We got this, girls.
Visit the Station
I know not everyone lives within a feasible travel distance to the station. But if you do, take advantage of that. Let your kids go sit in the fire truck and give their dad a hug. Get to know the crew your husband works with. I'm fortunate to live in the district that my husband works for, but a handful of the guys on his shift commute several hours just to get to work. So, their families don't get the opportunity to come by as often as I do.
I go out of my way to make a visit to the station – whether I'm taking dinner, delivering a phone charger, bringing medicine or extra clothes, or just out for a drive and feel like swinging by. Not only does this help establish a relationship between you and his brothers, but it also gives you the opportunity to show off how easily you balance all of the responsibilities when your hubby is on shift – or maybe that's an optical illusion. Either way, it looks good on you!
Remember What it Took to Get Here
My husband didn't always dream of being a firefighter. It's not that he didn't want to, but the idea hadn't popped into his head yet. In fact, he almost graduated college with a degree in computer science – But, that's when his mid-twenties crisis hit and he decided he could not handle sitting at a desk inside his entire life. I talked him out of quitting school, but only because he discovered the Fire Science degree program at the college he was attending. It was like the minute that idea got into his head – everything clicked. It just made sense.
A few years later (full of school, testing, practicals, volunteering, and working full-time) and he is a full-time professional firefighter/EMT. Remember all those times you ate ramen for dinner because you couldn't afford to buy anything else? Or what about the sleepless nights of quizzing your hubby on different emergency scenarios before his practicals? Personally, I remember laying on the floor pretending I had been thrown out a third story window then run over by a bus. At the time, my husband told me to take it seriously and quit coming up with these off the wall scenarios. But guess what? The victim during his EMT practical test literally had been beaten with a hammer from head to toe. I like to think my outrageous scenarios paid off here.
Just remember – At one point, you both dreamed of this life. And now, here you are. Don't forget where you came from and how hard you've worked to be a fire wife and to support your firefighter.
Embrace the Fire Family Life
Not everyone gets the privilege to be a firewife. Yeah, that's right. I said privilege. We have the opportunity to be part of one of the most close-knit organizations around. We endure a lifestyle that most people would run from. We are on the front lines when our firemen come home after shift and need a hug. We get this amazing extended family without the annoying in-law tendencies. We have a place to go where we are always welcome. We get to stand by our firefighters as a staple in the community. We get to be strong and take care of our firemen after they get home from a bad call. We get to practice weird Pinterest recipes and let the guys at the station be our guinea pigs. We get to buy wine glasses with cute firewife sayings on them. We get the help of an entire fire department in raising our kids – Because we are surrounded by a network of people who are in the same boat as us and would do anything for any of their brothers or their families. Continue to focus on the positives and things will just come easier. I promise.
Breathe…. & Drink Wine
Sometimes all we can do is take a few deep breaths and have a drink. If you ever find yourself so overwhelmed that you feel like you just can't take it anymore, I challenge you to make a gratitude list of all the reasons you are thankful to be fire wife. And you know what? It will make you feel better – And I can just about guarantee that. I make shift nights something I look forward to. How, you ask? I get wine, salami, brie, and dark chocolate for dinner. And I save my recorded shows to watch once the baby is asleep. It's like my own "me night" every couple days. And once I started thinking of them like that, I really began to enjoy myself. Don't just make it work until your firefighter gets home from shift. Embrace it and make it work for you. This isn't going to be a short-term thing most likely. So you better just get used to it and learn to love it.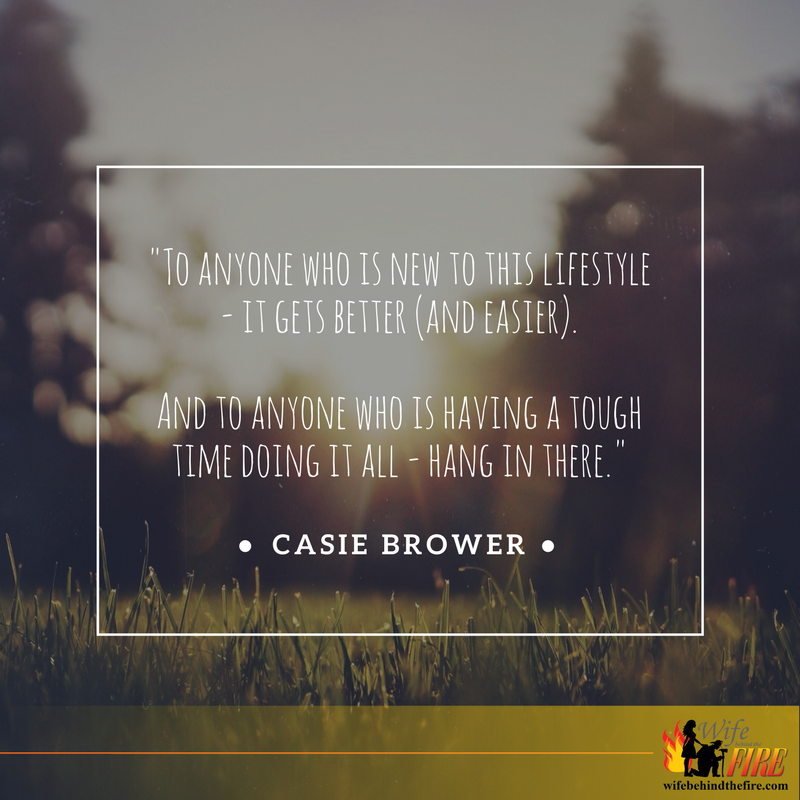 So there you go, five ways we can survive life as a fire wife. It's pretty simple, although it won't always be easy.
And above all else, Remember this: We are an elite group of the most amazing, talented, beautiful, smart, charming, resilient, funny, and strong women you will ever meet. You may think I'm being dramatic (which I am), but it's also true.
So, what's your balancing act?