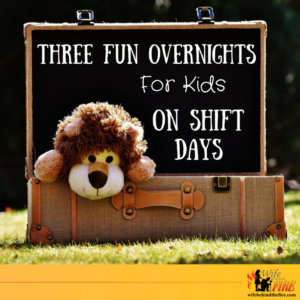 If you were to pull out a calendar and mark off all the days during your kids' summer vacation that shift days fall on, the number would climb quickly. When we plan family outings, more often than not we plan them when Dad isn't on shift. But why? Why do we waste all the other opportunities to make memories and have quality time with our children?
Just because your firefighter is on shift doesn't mean you can't plan some fun trips with your kids while they are out of school for the summer. There are many memories that can be made with this special one on one time we get with our children as firewives. Sometimes it may be overwhelming with our husbands on shift so much, but it also allows for these kinds of special trips.
Educational Overnight
As a family, we love to find new museums or historical locations. They love to learn about anything old. Do some research in neighboring towns or cities to see if there are any locations you have not visited together yet. If your search doesn't produce any good options, you may look into local factories or businesses that allow tours. Sometimes you can find candy factories, ice cream factories, etc that do public tours of their facilities.
When you have decided on a location, book a hotel room for the evening after your tours. No one looks forward to a long car ride home after a fun day. Continue the family time and kick up your feet and relax with your kids. Check in with Dad at the station and share all the fun you've had that day!
A Trip to the Water
Do you live near the coast? Look into renting a small beach house for the night! My kids would love to take a trip to the beach for the day. Pack lunches and sand toys. If you are lucky enough to find a house close enough to the beach or almost on the beach, you can spend your day relaxing in the sun and kick up your feet with a movie night at the house that evening.
If you aren't near the coast, do you have a water park or lake within driving distance? A lot of water parks are attached to hotels these days, and admission into the water park is included in your room price. Or if you are adventurous, pack some camping gear and camp at the lake!
A Simple Hotel Overnight
If a big traveling trip is not something your bank account or schedule allows, a cheap option to get you and your kids out of the house overnight is a simple hotel stay. Find a reputable hotel in your area with a pool. You can check in and spend the afternoon swimming. Ordering pizza or other take-out in your room saves the stress of going out to dinner with kids alone. Rent movies or find one on the television in the hotel room to round out the night. Another option would be to purchase a new board game or card game to play as a family if your budget allows. Kids love staying in hotels, especially ones with pools!
Have you ever taken an overnight trip with your kids while your firefighter was on shift? What kinds of things are in your area that would make for a fun and quick overnight with your children? Has your firefighter ever taken the kids on a trip by himself? Please share your ideas or experiences!