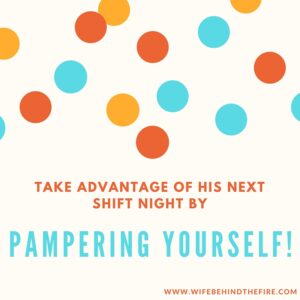 Are you a glass half empty or half full kind of person? There are many situations in life when it's easier to complain about the negatives than it is to embrace the positives. Shift night is one of those instances for many firewives. You can either spend those nights resenting the separation, or you can take advantage of the opportunities his time at the station affords you. There are many perks to having the house to yourself and an open schedule while he's working, you just have to find the silver lining!
Shift night can be a free pass for a night on the town!
Firewives who have not yet started a family, those with older kids who don't require a babysitter or who may have adult children who have since moved out on their own have the perfect opportunity for regular girls nights out. There's no need to worry about getting home in time to see your husband before he goes to bed. I know for me personally, sometimes I feel guilty going out and doing things on my own especially when our schedules clash and our time we have to spend together is limited. Going out with girlfriends, a sister, or your mom on a shift night is the perfect opportunity for you to catch up and foster all the other important relationships in your life.
Get creative with dinners!
Many firewives don't like to cook huge meals while their husband is on shift, even if they have children at home. One of the best ideas I've heard is a buffet style leftover night. Everything gets pulled out and warmed up. Each child gets to create their own dinner with the leftovers available and your refrigerator gets cleaned in the process! Also, shift night is a great time to enjoy the foods your firefighter may not like or indulge in junk food dinners. What better time to have your favorite bag of chips followed by your favorite tub of ice cream and call it a meal?
While the boys are away, the girls play!
Guys don't like to smell finger nail polish or watching sappy chick flicks. Take advantage of his next shift night by pampering yourself. Paint your nails, give yourself a facial, or even color your hair! It's the perfect opportunity to watch your favorite girly movie you've seen a million times that he always rolls his eyes about. It's also the perfect time to pop open a bottle of wine, curl up in the middle of the bed with all the blankets and binge read the latest book on your reading list. Who cares if you stay up with the lights on all night, he's not home to keep him awake.
No matter what you choose to do while he is on shift, the important thing is to remember to make the most of it. Yes, having your firefighter gone a few nights a week can get lonely and repetitive. It's also a unique schedule that allows for many freedoms in a relationship that most people don't get to experience. Take the time while he's on shift to do little things for you, recharge and treat yourself with activities that you wouldn't necessarily do if he were home with you. Keeping a positive attitude about your lifestyle helps keep the stress down at bay – after all the saying goes, "Happy wife, happy life!"