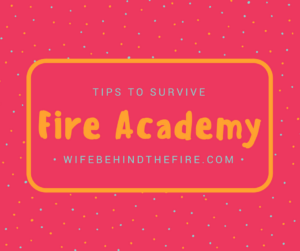 I swear academy is mostly a blur. It was only in 2007 for goodness sake. But,seems so long ago already.
For us academy was a little ways away. Not too far, about an hour. They stayed there Monday-Thursday. Instead of leaving early on Monday morning, they would stay over on Sunday usually. Sending him off on Sunday evening was really difficult. It was weird. I'd then have to get kids ready for bed and climb into an empty bed. Empty for 4 days. Bam, no getting used to it slowly, you are sleeping alone for multiple days asap. When he hit 24's, it was a piece of cake.
Academy was all about him. When he was home he was studying or possibly hanging out with the guys for some down time. He studied with the guys frequently and I've heard they even put the video games down and studied for real at times. lol I didn't plan family stuff he needed to be at or expect him to be at any events. He didn't miss out on anything, but I didn't plan anything out of the norm.
Typing that out makes it look like he was some jerk that didn't do anything with the family all those weeks. Not at all. He missed us terribly and spent a lot of time with us on the weekends to catch up. But, I didn't EXPECT him to. I think that was a difference maker.
When he came home on Thursday night he would say if he needed extra study time. If that was the case then I planned on getting the kids out of the house so he could hit it harder.
The biggest thing I learned about academy is to get over all feelings of jealousy. He had these people he was now really close to. I wasn't used to sharing him. When he came home we both had a lot of catching up to do. It was so crazy for me to hear about these people that he was now so close to, that I had never met.
The next big thing academy taught me was not to get used to any schedule. That's how the rest of his career will go. Once I finally got used to the bed alone, no sharing the tv most days of the week, he was done with academy. I swear it was that fast. From academy they went on days for a few weeks and that set the house upside down again. Then shift started and I had to get used to sleeping alone again.
Academy was rough for everyone. Don't forget that when they come home, it's difficult for them to hear how much they have missed. Still tell them everything, but just be aware that some days it might make them a little sad.
Do you have any tips for surviving fire academy?