A few weeks back I posted to the facebook page that there are times I wonder if I've got too much snark when it comes to this firelife.
You might have figured out that I'm not quiet, nor do I have an amazing filter at all times. I'm thankful I have any filter at all finally. I'm pretty ok with the level of filter I have at this time. It doesn't embarrass me as often anymore lol
Now while this is my personality, it doesn't mean that at times I don't worry about how it affects others. In fact in the last year I've worried too much about it. My biggest concern when I originally posted about it, is that I don't want firefighter to ever think I take his job lightly. Now it's just moments where I worry about stuff like that because honestly, I work and talk about the people I help a lot, so he knows. But that night I was in my head, overthinking things.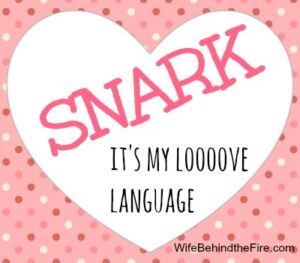 Every firefighter is different, just like each of our marriages are different. My relationship is full of cracking inappropriate jokes. It was that way for us well before he was in the firelife. The firelife has only made many jokes even more inappropriate for the rest of the world to hear.
Marriage is about sharing inappropriate jokes that no one will ever know or hear.
As my filter has gotten better, (I'm not constantly choking on my own foot) I've noticed my snark has increased two-fold. Maybe even more than that.
I suppose you are waiting for an example right? I mean what blog post didn't start off with something that happened in the writers life?
Sorry for the disappointment. I just told you above our marriage is about inappropriate jokes NO ONE WILL HEAR. Keep up.
Let's just say that when something that could be considered whining started, multiple phrases using the word hero snarked out of my mouth. I thought it was hilarious and he was laughing at me too as I went way overboard on the hero thing.
The level of snark had hit a new level. There is no hero worship in our house. In fact it might have been the first time I've ever used it around him. I loved my man before he put on bunker gear and the bunker gear didn't make me love him more or less.
Our life doesn't revolve around the fire dept. I loved him before he became a firefighter. I've loved him through the volunteer years of days I thought would never end. I will love him through these years until retirement. I will love him through retirement when I expect I will hear many of these calls I'm not hearing about now.
Here's the benefit of being an old, happily married gal. I am aware I'm not hearing even half of what he needs to tell. Every 5 years I hear a ton of stuff I probably didn't want to hear lol I'm not complaining, when he's ready to talk, I'm here. At this point there is nothing he can tell me that I won't listen to.
My job in our marriage has always been to help him get through crappy work days. To try hard at keeping the environment a little lighter to balance it out. Inappropriateness is how that works in this house.
I won't be able to change my love language. I tried to read the book, The 5 Love Languages: The Secret to Love That Lasts
 and find out what my love language was. Not only could I not figure out mine, but I really couldn't figure out firefighters either.  I just couldn't connect with the book. I gave it a really good try and read almost the whole book. I know it was highly recommended and so many have benefited from it. PLEASE do post your recommendations below for the book and how it helped you.
I'm snarky. I guess that's my thing.
Where is the snarky book? Do I need to write it?
I don't try to be snarky. Nor did we decide this was how our relationship would work. It's just where we are at after 25 years of dating and nearly 21 years of marriage. I'm confident that he is married to ME. I repeat…ME. I'm snarky. If there is a joke to be made, I will probably find it.
I know that the snarkiness is a coping mechanism. But if they can compartmentalize their work, then I can use snark to get through the day. It's not as if we don't deal with real issues. We work on them and then make fun of them. Typically making fun of things together.
It works for us and that's the only couple I have to worry about 😉
Have you found your love language? Do you have a coping mechanism you use?