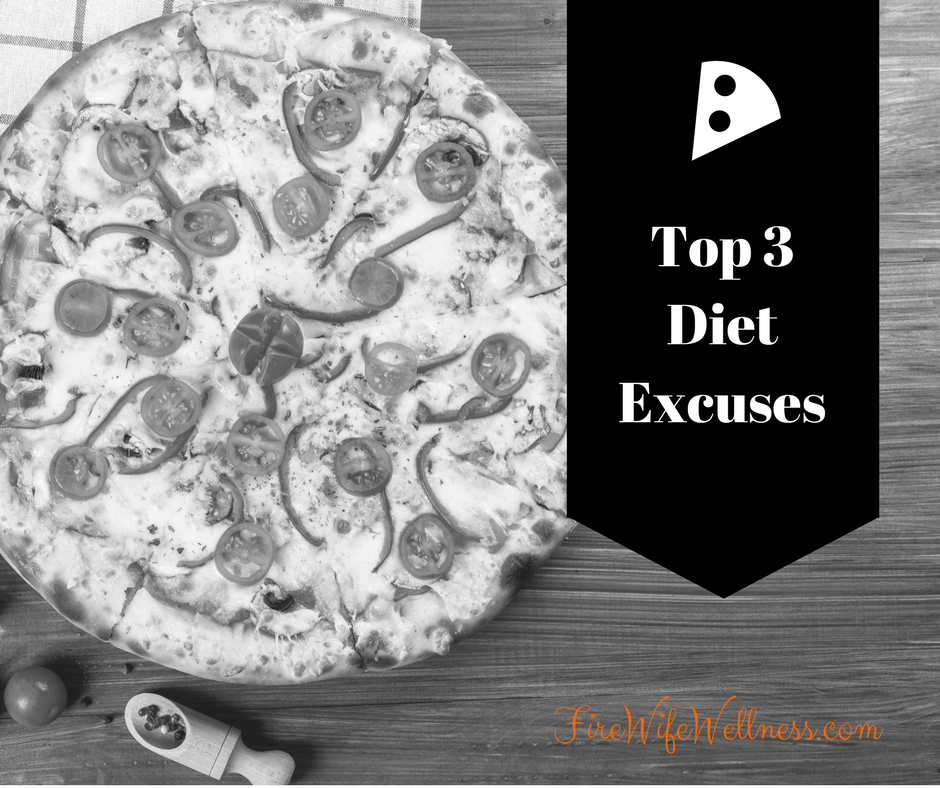 First, let me make sure we have the same concept of the word diet. The original definition of the diet as read on dictionary.com is:
food and drink considered in terms of its qualities, composition, and it's effects on health
This means, it's simply the food you eat and what it is made of. Your daily diet is just writing down what you eat and finding out what nutrients are in it. That simple. I'm not talking about you "going" on a diet or fad diets. The word diet has negative vibes now which stinks. I end up trying to use the word nutrition as much as possible. However, I think most think of nutrition and they just think salads and low calorie/fat. The only way to win this word battle is to just own it and move on.
Now you have my definitions of diet. Obviously I'm long winded today, you probably want to go fill up your water bottle. lol
Today we are going to tackle the common excuses for making poor food choices. This doesn't only apply to those of us trying to lose weight. We are what we eat. If you are eating a lot of junk, you won't have the energy for your workouts. There go your fitness goals. If you are eating a lot of sodium, you'll carry water weight over those muscles you want to see so bad. Your food choices are important no matter what your goals.
There are 3 top excuses I hear for why you can't eat well.
"It's (insert holiday)"
Our society  and most cultures are centered around food. No way around it and not much to change it. We obviously don't want to change, so how about we change the way we address it? If you have goals, there will never be 4 weeks in a row without a holiday or birthday or some special event.
Special events that your brain says, "I always eat this favorite food at this event. I can't deprive myself." It's true, you shouldn't deprive yourself. Doing so leads to binge eating. But, just take a few bites off of someone else's plate if you must. Dish up just a couple of bites and throw away some if you have to. Those first few bites are the good bites anyway.
One Thanksgiving I hosted the family because hubby and I were working hard on our food choices. This way I had complete control over the dishes. I made small portions of the traditional items that the family must have, but I added 3 new dishes that were much healthier. In doing so I found some dishes the family actually wants added each year. Don't be afraid to change up dishes for your favorite holiday. Also know that once you hit your goals you will be able to eat a little more of your old favorites and stay at your goal. It's up to you to decide what you want more. Your goal or a few minutes of eating that favorite, unhealthy food?
"It's too expensive to eat healthy food"
Let's see, how should we tackle this one first?
The actual price. Say apples are $1.29 a pound. Maybe you get 3 apples in that pound. You now have 3 healthy snacks that cost you 43 cents each. Is that less than the bag of chips you were going to buy for snack?
Grab all the preservative laden foods that you eat. How many more portions of them do you need to eat to actually feel full? Put back the box of instant mashed potatoes and pick up a 10 pound bag of potatoes for only $1.98 for goodness sake. It's about making changes. You don't have to go organic to be healthier.
Now, let's look at the other thing about the expense of foods. You eat crap, you feel like crap. You don't work out because you feel like crap. Your immune system is crap because you eat crap and don't work out. Now you spend more money on OTC cold meds, cough drops, tylenol, advil and don't forget the doctors visits and the time taken off work.
Those unhealthy foods are expensive when you add up what it's doing to your health.
"I'll start tomorrow"
You can also insert "I'll start on Monday".
This one was going through my head as I jogged yesterday. There is no tomorrow. Now a lot of people like to joke and say "life is short, eat dessert first". I don't necessarily disagree with this, but if you have goals then you need to buckle down. Going with the mentality that there is no guarantee of tomorrow, shouldn't make you splurge every day. Let me give you an example.
You want pizza. You love pizza. Hey, I'm starting my diet tomorrow, I'm going to eat pizza for dinner tonight.
Bite one…OMG this is amazing. Bite 2, 3, slice 1, still so yummy. This is such a good idea. Now I won't be craving pizza while I'm dieting.
Slice 3…I should stop eating this pizza. But, it's so good. I'm starting my diet tomorrow, this is the last time I'm going to have pizza in like forever.
Slice 8, last piece of the pie…omg I ate the whole pizza. Thank goodness I'm starting my diet tomorrow. I shouldn't have eaten the whole pizza. The last 4 pieces didn't even taste that great. Now I'll be up more weight in the morning. I'm going to have to do the elliptical for like 7 hours. I won't be able to eat anything but lettuce tomorrow. Ugh, the pizza is gone.
Hour after eating whole pizza…omg I feel like absolute shit. I'm so stupid for eating the whole pizza. I'm never going to stick to this diet tomorrow. My tummy hurts. I have no will-power, there's no way this diet will work.
Wakes up in morning…I don't want to get up. (snooze button 3 times) I hate that I ate that whole pizza last night. I still don't feel good. I'm going to start this diet tomorrow when I feel better and can really commit. Right now I just feel too bad.
Insert new food for today and keep the cycle going.
See, tomorrow never happens. Extreme example? Actually it's not. I've had discussions with many clients doing this same thing. Watch any weight loss show and you see them doing it. HELL, I will fully admit that I've done this to myself during some of my really bad times. It's what happens when we emotionally eat. We just keep putting it off to do later.
These are the top excuses I hear for not eating better. Do you have another reason you aren't eating healthier?
Happiness is a choice and so is your health. Live with no regrets,

PS – Tracking your food is the number one way to become more accountable. I love myfitnesspal and fitbit for this purpose. Get accountable and stay motivated. Join the 6 Week Fitness Mission today.