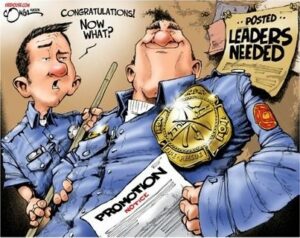 What does it take to be an officer? For me it was eleven years and two attempts. I signed up for a lot of classes in leadership, strategies and tactics, and professional development.  I studied for written exams. I practiced for my assessment panel. Finally, I received the word from the Chief that I was going to be promoted.
I received my gold badge, my title, and my shift. I thought I was set. I was only partially right. Nothing can prepare you for the transition from firefighter to officer. All the books in the world can make you think it's easy, but until you're sitting across from your newly assigned shift being introduced as their officer you just can't know. I firmly believe that it takes a special kind of crazy to be a firefighter and an even more special kind crazy to try and control them. "What's the biggest obstacle" you ask? Well, you see, you're no longer "one of the guys". You're the boss.
This is where the first bitter taste of leadership is experienced. Your job requires you to give orders, demand results, and administer discipline to guys you used to cut up with. You may now be in charge of people you once looked up to. Even worse is the fact that they are all now looking to you for answers and guidance. There is a great line in the movie Ladder 49 where the character John Travolta plays is an officer in the firehouse.  After helping put some kids to bed the wife of his guy tells him he would make a great babysitter and Travolta tells her "What do you think I do all day at the station". This couldn't be a more accurate statement. You can interact with the personnel, but you must maintain an amount of separation. You can't be one of the guys anymore.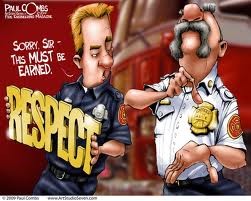 Some new officers forget the golden rule of promotion. Just because you have the gold and you enforce the rules doesn't mean that your crew is going to respect you. I've heard time and time again as an officer "you better not forget where you came from" and I agree that just because you're an officer now it means you have to have a personality transplant. Just like the fire service, you adapt to the ever changing environment. Respect on the other hand is a funny thing because firefighters will respect a position while hating the person in the position, but only to a point. I tell aspiring officers that if you don't respect you personnel, they will never respect you. A good officer molds his team using the strengths of each person to get the job done. Give credit to your people because everybody knows you probably didn't do the heavy lifting so without them you're just a paper pusher.
Finally, I had a Fire Chief once tell me "always remember, NEVER promote past your happiness" This is probably the best piece of advice I have ever received. I share it with every person I can who decides to seek a promotion. If you're not happy with your position then do absolutely everything you can to change it. Once you find that happiness, then strive to be the absolute best at that position you can be. Everybody will make mistakes and as a good officer you must learn from them. You take the good and the bad from your officers and develop your own style, your own way of doing things. Don't be so proud you can't admit there is a better way of doing things. Don't let your ego get out of hand. Last but not least, have fun! If you can't go to work every day with a smile on your face because you want to be there, then get out. Find something else or just retire and go fishing. Nobody likes an officer with a continual case of "short-timers" syndrome. Your poor attitude will infect the entire shift and that is nothing but a ticking time bomb
**Thank you to Paul Combs for permission to use his images.