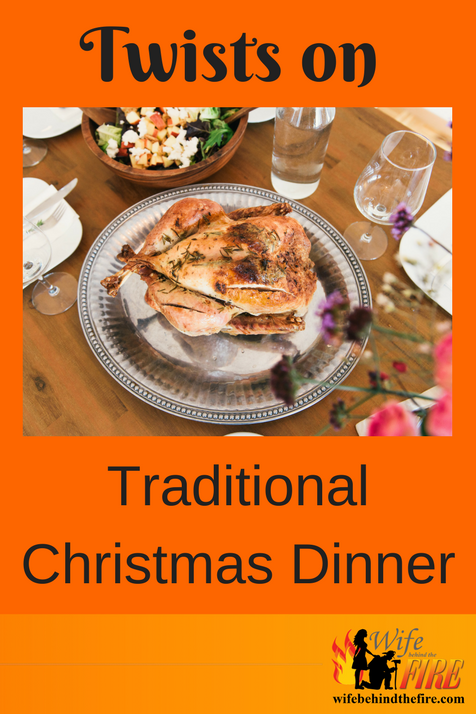 One thing the FireLife has taught us is we can create any tradition we want on any day. Growing up, firefighter and I both had different traditions for the holiday that some would think are odd. We always had lasagna on Christmas Eve at my Aunt's house for example. Over our nearly 30 years together, we've gone through some of our own odd traditions even. Not knowing if I would be holding dinner at our house on the day of or going to someone else's house on any given year, we've now come up with some fun stuff of our own.
Which is even better because the kids want to come home to our crazy traditions we've created in our little family.
Tradition is all well and good. It's fun. It feels like home and it's super comfortable. We like rituals; it makes us feel grounded. But, when it comes to food, there is no reason you can't still be traditional but add a little twist to it by changing up the traditional recipes to make them a little different – and possibly even better than the original. Here are a few ideas to get your creative juices flowing if you feel like you've been stuck in a rut.
Turkey
Many people enjoy turkey at their Christmas dinner. Typically, it is just a regular roasted turkey with stuffing or dressing. But back in 2016, Rachel Ray Every Day posted six flavor twists for the traditional turkey. These recipes are awesome to keep it traditional but with a little extra flavor that your family will love.
For Thanksgiving this year we put the bird on the smoker. I made a paste of butter, a LOT of lemon thyme and some Johnny's seasoning salt. I think for many of you lawry's would be similar to the Johnny's.
Stuffing or Dressing
There is always a lot of discussion about whether you should fix stuffing or dressing. Either is fine, but you can really switch up the ingredients and make it extra special if you want to. There are so many amazing flavor combinations. You might want to try this Holiday Turkey with Rice Stuffing recipe.
We celebrate friendsmas each year and many times we all try out new twists on the traditional. It's an awesome event to experiment so you don't screw up the main meal with a dish you don't like. A friend made sausage, apple & cranberry dressing one year and then we had to start a new tradition of her bringing it each year lol It is something I never would have thought to make and it's A-M-A-Z-I-N-G!
Go Vegan
It might seem impossible, but you can add a huge twist to your holiday meal simply by going vegan. Look no further than your Whole Foods Market website for great recipe ideas. If you don't have a Whole Foods, you can still find ingredients at your local supermarket for the most part.
If totally vegan is going a tad too far, make all the sides vegan and then throw in some meat on the table to go with it. Honestly, you'd be surprised how great they taste.
Ham
Many people enjoy spiralized, glazed ham on Christmas. It's wonderful for that day but also for leftovers. Oh, such great breakfasts the week after Christmas!
There are many different recipes that are almost the same for this traditional dish. Why not shake it up with this Holiday Ham with a Texas Twist. You don't even have to live in Texas to enjoy it.
Pumpkin Pie
You may think you've seen all the variations of your beloved pumpkin pie, but there are so many that they can't be listed here. Make a pumpkin pie with a pecan crust on top. Better yet, have you ever had a pumpkin cheesecake? OMG The sky is the limit with a quick google search.
Green Bean Casserole
Many people hate it, but many obviously love it because it seems like it's part of every Christmas holiday meal. I had never had it before dating my firefighter. It's a staple in their holiday meals.  There are many ways to make it that you may not know about. Here you can find a list of sixteen different ways to make this traditional holiday side dish extra special.
There are some other little things you can do to spruce up your green bean casserole. Add toasted almonds into it or sprinkle on top. You can always go with a cheesy topping. Hard to mess anything up with cheese.
Christmas Pudding
Many people enjoy classic Christmas pudding at some point during the holidays. It's originally and English tradition. If you've never tried it, making the traditional recipe will be a great twist in itself, but if you have, consider trying this version. If you like dried fruit, eggs, and bread, you'll love it.
Don't be afraid to try new things. You can even throw out tradition altogether and have a Christmas pizza if you so desire. Don't feel constrained to do the same thing every single year if you don't want to. Our family tradition is a seafood feast. No sides even necessary. Just shrimp, clams and lots of fresh crab.