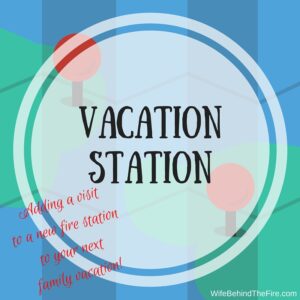 The usual family vacation itinerary usually includes things like amusement parks, state parks, zoos, and museums. However for fire families, searching out the nearest fire station can be a fun experience as well. It seems to be an unspoken rule in the firefighting community that any firefighter and their family are welcome as visitors in any fire station. This gives families the perfect opportunity to add in a unique stop on their vacation or road trip. Firefighters love to exchange patches and stories, and kids of all ages love to explore new trucks and engines.
The brotherhood is not just within a firefighter's department but extends throughout the whole profession as a whole.
This is always very apparent when you watch your firefighter march right into a station and be welcomed by firemen who act like they have known him for years. The first few times I accompanied my firefighter on station visits, I was always nervous to just walk into a bay and search out the first firefighter we saw. It becomes very apparent after your first station visit that even thought your firefighter may not be a member of their department, your family is a part of theirs. Handshakes and smiles are they way we have always been greeted. Never once has anyone looked at us as an outsider, it's always a very welcoming and inviting exchange.
I find it very interesting to watch my husband chat with other firefighters when we visit a different department. If time permits there is usually a grand tour of the station involved. I always find it interesting to see how each station is set up and the amenities it offers the firefighters. Of course, if you have little kids they almost always open up the truck doors and obligatory pictures are taken of them sitting behind the wheel.
We typically bring a couple extra patches and a new station shirt from our department as a token of our appreciation for the visit. Some stations will trade you a patch for a patch. Others sell their patches and shirts as a fundraiser for their department. I always make sure to have cash on hand just in case.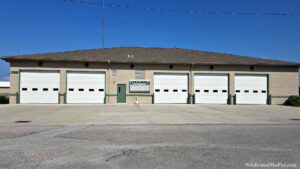 Keep timing in mind when you plan your visit.
We had come across a fire station on one family trip and decided to stop in. The chief gave us a full tour and spent some time talking with us about the area. He then directed us to the main station, saying they'd love to have us. "I can't promise if you show up at dinner time you will get the attention you did here," he said with a chuckle. This is absolutely true – if you show up at meal time it's common knowledge that they are all going to be shoveling in their meal praying they can finish their plates before the last meal. No time is the perfect to drop by a new station because the tones can obviously drop at any time. Just remember to be mindful of dinner times and late evenings when they may be working out, making phone calls home or trying to get in a little shut eye.
If you have not included a station visit during previous family vacations, I highly recommend it! It's nice to make those connections in new areas and learn about other departments. My husband has even kept in touch over the years and made return visits to certain departments in areas that we travel to frequently. Does your family visit new stations while on vacation or traveling through a new area? What has been your favorite station to visit?