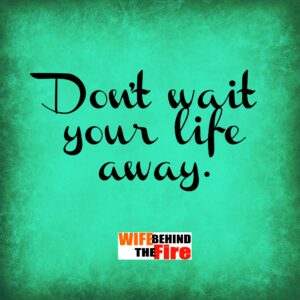 His schedule, your schedule, kids and other family. Where are you supposed to find a good time for just you and him to spend time together as a couple?
You don't find time, you have to make it.
I was trying to find hard facts about divorce rates in the fire service, but I finally got bored looking for actual numbers. Everything I found said, "some say this super high percentage", "higher than average" and other vague information. No cold hard facts and that makes me cranky.
My firefighter was in construction for 15 years and a volunteer half of that time, before getting hired on. I personally witnessed a much higher divorce rate in construction than I have in the seven years on a paid department. That too is supposed to be "higher than average" divorce rate.
I've yet to figure out what this magic divorce rate is either. I will work harder at getting real statistics for a future post.
After 20 years of marriage and his working in two high divorce risk professions, I've learned a thing or two. Not just from experience, but observing some pretty messed up relationships around us.
One major thing is dating.
Dating needs to be important. It also needs to be about more than going out on the town for a night out.
Waiting to spend a big date out, means you will be waiting your life away. There is always an excuse why it can't happen. They are legitimate excuses. Money and childcare are major issues to overcome if you have a grandiose idea of what a date needs to be.
Dates tend to change after marriage. Once you have kids, they change or they become non-existence. I have 5 tips for pulling through the hard times and making sure those dates happen.
Look to the long term. Marriage is forever. There's no option except to work through issues (healthy issues). Going through the young children years is rough and you will have to be creative. But the goal is when they are teens and moving out. You have your husband to yourself!
Don't keep waiting until they are older to date. It's kind of contradictory to what I just wrote above, but you can't wait to build your relationship. It needs to be built now, this minute, this day. It's about the little things.
Dates are everywhere. Do not wait until you can afford it or you can find a sitter you trust. You need to make a date right now. Dates are free and you don't have to leave the house.
Put the kids to bed. One of the best things you can do for your marriage is teach the kids that you and Dad need alone time and they need to go to bed early on any given night. This teaches the kids the value of your relationship and how important Dad is to you. They already know how important he is to them. Being told that you need time with him is healthy. Put the kids to bed 30 minutes early, put a movie in and snuggle on the couch. Date night just cost you a couple of bucks. If you have a favorite tv show, then make sure the house is all squared away and make a date to watch it together each week.
If a date is important to you don't hint. As a firewife, you must get over the idea of a certain date on the calendar being important. BUT, if there is an important date to you, you must tell your husband this so they can try to schedule it off. My husband told me when he was 18 and I was 17 that he didn't take hints. How prophetic that was for someone so young? No one takes hints. If you want something, you need to communicate that is what you want and need.
Giving relationship advice is not something I feel very comfortable doing. There are so many variables to consider.
But after 24 years of dating, beating the odds of being high school sweethearts, construction and now firefighting, I'm quite sure that I have tips to share. For goodness sake, the first odds of still being married to my high school sweetheart are huge in itself. There's no way I didn't learn something along the way.
Biggest thing I learned is #1. When life gets too hard, you need to look to the long term. Divorce isn't in our vocabulary. We WILL work through our issues. Our issues are only a temporary thing. We have 24 years of our relationship to look back on and know this for a fact.
He and I didn't come from the same relationship background. My parents have always been together. His parents divorced in his tweens but have been married to the same people for the same amount of time we have been.
You don't come from the same relationship background either. You need to talk to your spouse about what your values are. That divorce isn't in the vocabulary. It's not an option. Till death do we part beyotch!
But don't wait. There is no reason why you can't be looking ahead, just be realistic. Waiting to be happy for 20 years will make you a miserable person. You need to implement things this week. Start a little small, but put your relationship as a priority.