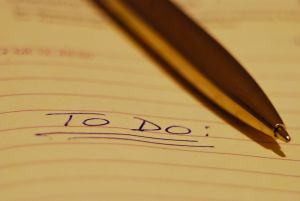 Yes, we know his work schedule way in advance but that doesn't make it any easier for me to form a schedule.
I'll be the first to admit that I'm not a very scheduled person. Add in that he'll ask me if I want to go on an errand with him or run off to lunch and my scheduling is a nightmare.
Lunch date? Absolutely, I'll drop work and go. Where to?
For now I work for myself. The oldest graduated last school year and the youngest is a sophomore. After he graduates, that could change. Or it might not. I'm hoping I can get online income up enough that I won't even be thinking of it at that point. I love running off at a moments notice.
But if you have kids then you know that shift days can turn to chaos in a heart beat. If I have a day set to work and a project to complete, you can bet that it's a shift day. I've learned not to bother scheduling major deadlines on a day he's home unless it's absolutely necessary. Then the text messages will start flying. That will be the day we were running late and I'll run lunch down to him. Or he'll need his workout shoes. After dropping the boy off at school I'll come home to find his lunch on the counter. The oldest will need to go get something.
Life will always toss a wrench into any schedule I've tried to set.
Which is my own issue and I am aware of it. I could say no. Others do. I'm just not one of them lol So I have to get better again at using the time that isn't messed up. I've been much better at managing my time in years past. Honestly, I've just gotten lazy and it's easy to go with the flow.
As I go into the new year I'm going to be better about my time. Here are some ways I'm going to form a schedule.
Write out my work schedule. I downloaded and printed the blogging calendar from blogenergizer. Now I've done this before but I've never taken the time to sit and fill out each month. Being a captive audience right now, I have plenty of time to really get organized.
Map out reasonable time to work on days he's working. In my head the plan is to get so much done. In reality, I go into slow mode and chill more. If I write out things that need to get done each day of the week then it will show him my time frame. ALSO, I have to schedule more days that I don't even think about work. Those have been too few and far between.
Tell the family no or that it will have to wait. I know the kids think they hear it all the time but they don't. lol If lunch needs to be delivered to anyone that's a given. But other things can wait or they can do without. If they forgot something it's not my fault. If I worked away from the house they wouldn't even be trying to get me to bring it right?
I know well in advance what his work schedule is. I think we had all of our 2014 picks done two weeks ago, maybe a little longer.
My work schedule doesn't change with my fitness classes, they are every M, W, Fri morning. There's no excuse not to go two weeks out and schedule my time. Hit him up for things he wants to do and even schedule in what days would be better for lunch dates. It never fails, I won't come back from lunch dates and be productive. We'll typically wander around and do errands as well.
For me, following any one of the three things I posted would mean a schedule. I love not having to be strict about my time. However, that's also the downfall of working for myself and his firefighter schedule. I have to be strict because there isn't anyone else to tell me differently.
So here's to a stricter schedule in 2014, which still means no schedule at all for those of you that love a good schedule. I guess I need some better tips from those of you that like a scheduled life.
What are ways you form a schedule? Or do you have any kind of schedule at all?