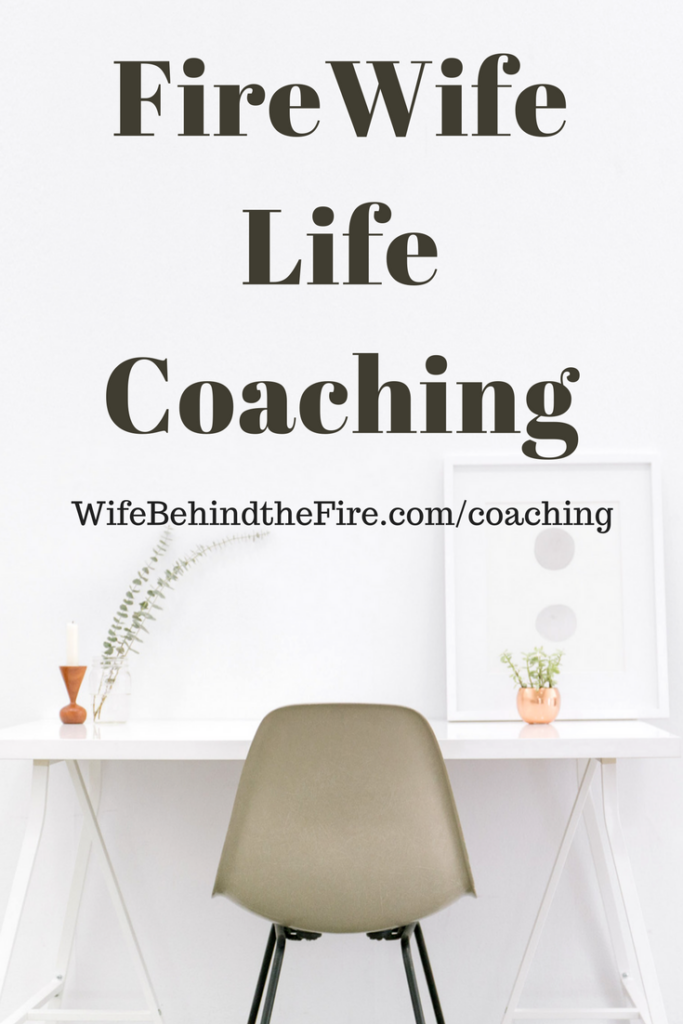 The dictionary defines a coach as; to give instruction or advice to in the capacity of a coach; instruct.
I see a coach as being …  a person to offer encouragement. A person to keep you on track. A person to help define your goals. A person to push you to hit your potential.
Why me as your firewife coach? I've gone through 17 years of the good and the bad. I've learned to focus on keeping that good around me and I want to pass that on to you. I've been a volunteer wife while the kids were young and can understand the crazy that brings into the house. Now, living the paid life just turned it into a different kind of crazy lol
My goal is not to tell you how to change or what you are doing wrong. My goal is to…
be a big sister to chat and bounce ideas off
help you talk through what is driving you crazy
talk you OFF the ledge
push you into the waters
My role is to cheer you on. I want to be with you and listening as the change happens and your daily life flips more right than wrong.
I want to see and hear the smile on your face as you break through and realize how amazing your life is. As you focus on everything good going on and build on that good.
I want to be there as you become so amazing that people around you are feeding from it and your positive energy has become contagious.
So what is a FireWife Coach?
It's a coach that understands the unique struggle that comes with being married to a firefighter. The last minute schedule changes and how it can zap your sanity when you are just craving 5 minutes of normal. A coach that knows how much you love your firefighter and have a love/hate relationship with the fire dept.
I'm that coach that is going to be in your corner understanding all the excuses and reasons you are making for not putting yourself as a priority. I'm that coach that knows you sometimes use the excuse that it's ok to not be a priority because your firefighter is saving lives. I'm that coach that is living the FireLife and gone through stages of putting myself second or third behind everyone and everything else.
I'm also that coach that calls bullshit on all of it and knows we FireWives deserve to be a top priority.
Let me be your coach and build a custom program with you. As cliche as it is, you have nothing to lose. BOOK YOUR FREE CHAT NOW and we'll see if we're a good duo.
Live with no regrets!

PS – Go here for more information about FireWife Life Coaching