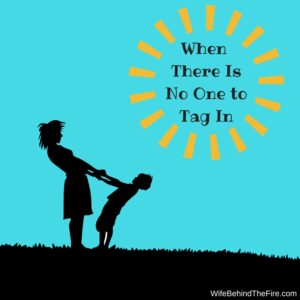 We've all had those days where we just can't wait for our husband to get home from work. The baby has not napped all day and spit up all over the last clean outfit you had left in the closet. You are living for that moment he will walk through the door and you can hand off the screaming kids and lock yourself in the bedroom for a few minutes of peace. But what happens if your firefighter is on a 24-hour shift, or gets picked for overtime? It could be 12 hours or even a whole 24 hours more before relief walks through the door. Spending so much time alone with your darling children without any backup help can take it's toll even on the most laid back wife.
Everyone pitches in to help around the house.
From a very early age, my children learned they play an important role in our house running smoothly. Whether you have a toddler or a teenager, having them help you with household chores especially on days your firefighter is on duty will relieve a lot of stress for you. Toddlers can pick up their own toys, or carry dirty laundry to the laundry room. Take a night off and let your teenager cook dinner and take care of the kitchen chores. I also like to use chores if my children are not getting along – if I have to break up your fight I get to pick a chore from my to-do list for you! This is usually a very successful tactic.
Sometimes early bedtimes are okay!
Sometimes I just needed the house to be quiet. This happened a lot when my children were younger and were exceptionally whiny or had been at each other's throats all day. On especially difficult days we would do an easy dinner, they would wind down in a warm bath and we would end with stories and an earlier than usual bedtime. After they were tucked into bed, I could take a breather. Most often I used the extra time to destress – I would draw myself a hot bath and kick back with a good book, or pour a glass of wine and put on my favorite movie. Early bedtimes were also helpful if I had some deep cleaning to do and just could not accomplish it with them under foot. Luckily an early bedtime did not equate to an early wake-up time the next day, so it often worked out in my favor.
Sitters are not only for date night.
What happens if your girls text you asking to meet for a girls' dinner and movie night but your firefighter will be on shift? The answer is probably that you will tell them you are not available. However the answer SHOULD be you will get a sitter and where is dinner! Just because your firefighter is on duty does not mean your life is put on hold. Mom needs to recharge her batteries sometimes too. If you have family members or a neighborhood teen who is willing to sit with your children so you can have some much needed time to yourself, take advantage of it! It does not have to be a fancy girls' night either, you could get together with friends or another wife on the same shift and a girls' night in if you need a break but do not have a ton of money to spend on a night out.
Do not feel bad about the stressful days. Sit down with your firefighter and brainstorm ways to streamline life while he's at the station. Don't be afraid to ask for help from friends, family or other firewives too. Mom's get sick, things come up, and sometimes life just gets to us and we need a little help. If your firefighter can't be there for you get creative to keep yourself sane while he's on duty!
What helps you deal with spending so much time alone with your kids while your husband is on duty?