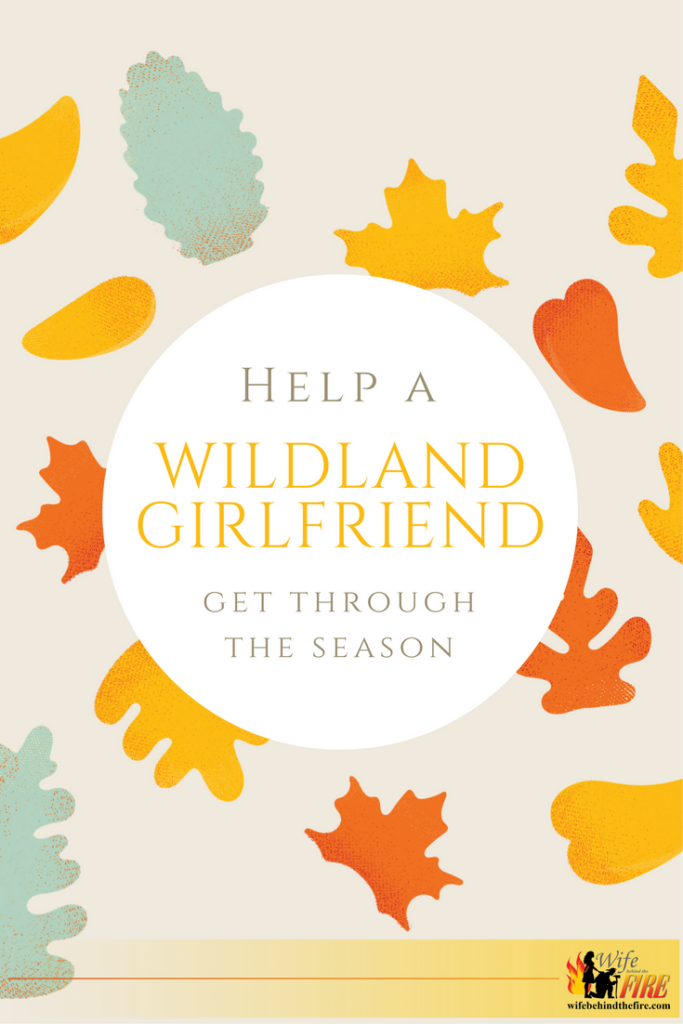 I know I have been a slacker in sharing questions and answers. I think I have become too accustomed to answering quickly to so many. Today when I got this plea, it hit me that I needed to share it with others. So I am…with her permission even though I'm not calling her out.
I'm hoping some that are in the wildland life will come help with more suggestions. My suggestions are based on my experience in structure, as a momma of a wildland firefighter and what I've gleaned from others when similar questions have been asked in the group.
Now this woman has a lot of work ahead, so please remember that. I'm excited that she's newly in a relationship and looking to reach out for help already. That's a good sign. I'm pretty sure we can help her through this giant learning curve. Normally, I wouldn't post this much information and especially from a girlfriend. BUT, the questions she came to me with are exactly what I hear from so many wives that have been together longer. So, it's definitely something we need to address as even wives of some time haven't learned to deal with what she's asking.
Her fb message to me:
I am new to this whole Fire Girlfriend thing. He works for the US Forestry. We've seeing each other for a month, but really been together for a week. It's so hard. I understand his passion for his job and I totally support him. But, he's been to fires here in California for a whole month. He doesn't call all day. I don't sleep waiting to hear his call or text message. But this is the longest I haven't heard from him for 3 days now. I just want to cry. Please help. How can I survive this during Fire season? We just started seeing each, other how do you do it. Thanks for listening.
My response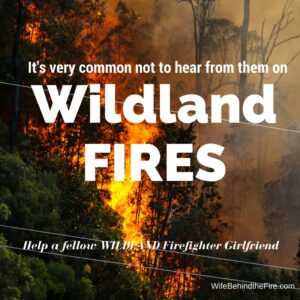 Thanks for contacting me. While on fires it's very common not to hear from them. Some wives go many weeks. Cell batteries can't be charged, they pass out tired after digging & hiking 12-14+ hours or there's no cell service. Our daughter had to hitch a ride into town last year in order to get service on her downtime (she jumped into rigs deployed there) lol No service is most common.
Since you are newly together you need to quickly make lists of what you did before getting together. You need to occupy your time so you don't make yourself crazy for no reason.
You can check out the wild kind of love Facebook page. Chantelle also has a group for spouses and another group open to everyone loving a wff that is active. It's also been recommended to join Spouses & Partners of Wildland Firefighters.
As far as the fear goes. Don't feed into the hype.
Before becoming a ff mine was in commercial construction. He almost died doing that so many times that I had to tell him not to tell me anymore. It was every few months and he worked in the big leagues for 15 years before being hired on as firefighter. FFing is way safer lol Plus he's now doing what he loves. Previously, he could have died on a miserable job that made him angry. If something happens I at least know he was happy.
The what ifs will kill your relationship. So get girls nights planned, hobbies, decorating, side job even?
It's a big adjustment and you came into it at go time. Easing in during off season might have helped you a little lol Or maybe throwing you right in so you have to adjust immediately will end up easier in the long run. It will all get easier from this time forward.
Wildland firefighter wives, what tips do you have for a new girlfriend?