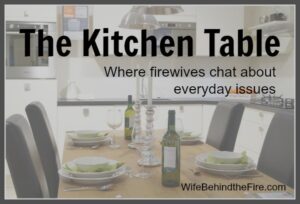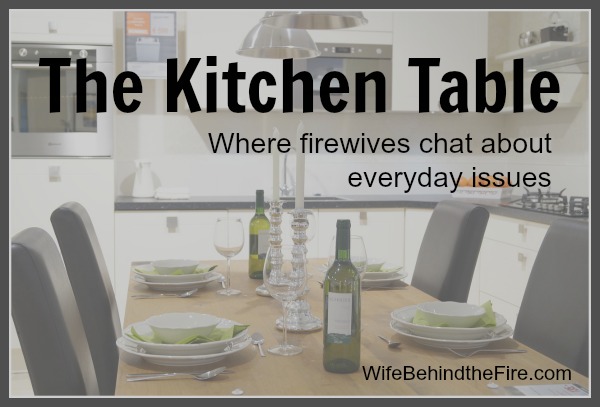 It's not just us that have to deal with the craziness. If you have little ones then you add a whole new dimension to what is going on in the house and how you need to handle things.
Question this week:
How do you help the kids when they are worried about Dad?
___________________________________________________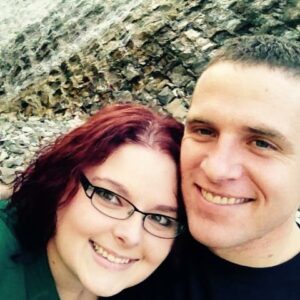 Megan F. has multiple kids to consider
My kids don't really get worried about him. They get excited to hear about his calls. They want to know about every single one. I'd imagine if they start to feel anxious or worried, I'd remind them how well trained their daddy is and then I would find ways to distract and make the situation light. They've seen the movies, they know there is risk. But my kids, who were all adopted, have lived trauma and they don't need to be in that place every time he goes on shift.
____________________________________________________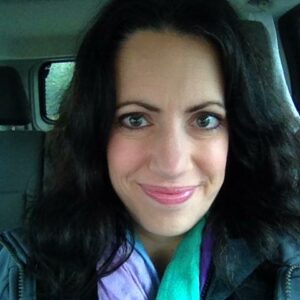 Peggy S. from Canada is joining us this year
I live in a small, rural community. The nearest town of 6500 people is 20 minutes away. Our township covers 746 square kilometres (about 300 square miles for my American friends)  and we are heavy in seasonal, summer residents. This makes for a beautiful place to raise a family but also makes our volunteer departments that much more important.
My husband Pat has been a firefighter basically since he could walk! His Dad was a 35 year captain, so Pat started early. I knew going into our young relationship that the fire services was part of who he was. It makes him a generous, compassionate man. It also makes him tired and cranky and bossy. Perfect. I could handle that.
I loved having "me" time, I'm not neurotic about plans so tones going off at the drop of a hat was no big deal. And then the kids were born. Boy does that throw a whole new spin on being a firefighter wife. I worry more now but have to hide it better. Because our kids have grown up with the fire department being part of their daily lives its second nature to them. It was just part of daily life.
We never made a big deal of it, I just said daddy was going to help someone in need. This worked well for the first few years. Now they are at the vulnerable ages (8 and 11) where they GET stuff. It's such a small town that when anything big happens (from structure fires to drownings to car accidents) everyone talks. Then their school friends talk. Then they worry.
"What if Dad falls through the ice too?" "Did Dad go in the burning building?" The most recent one was "why does daddy sound funny on the radio?" (He was in full BA) I ease their fears (and mine) by reassuring them that daddy has the best training (after all, that's why he's gone ALL the time to the firehall!!) and that I trust his "guys" to the end of the earth and back. We love them all like family and they would do everything they could to not let anything happen to Dad. And if it's an especially bad call we go out for ice cream to get their minds off of it. (Ummm Ya, that part is kinda for me too!)
____________________________________________________
The kids were 4 and 2 when he became a firefighter. Young enough that they don't know much of a time when he wasn't going on calls.
They are old now so this is digging way back in the memory and so much of that time is a blur because of how busy life was. I can vaguely remember maybe one time the oldest was worried. He was a volunteer then and that means they usually knew what the call was he was going on. They heard the call, maybe got to yell a "love you daddy" and then within a couple of minutes we heard the siren take off.
I can only vaguely remember one night where one of the kids was really upset. I can't even remember which one it was now. Between all the hours working his regular job and the volunteer time, he was gone a lot. One of them was really overtired and that led to worry popping up and a full melt down.
All I could do was hold them while they cried and tried to tell me their worries. Then tell them the same thing I tell everyone else. People need Dads help and he likes helping people. That they know how much training he goes to and who goes on calls with him (thankfully they did know one or two) and that all of this will help keep him safe.
If it did come up again, the discussion would have gone the same way. It's ok for them to be scared and worried. It's definitely good for them to get it out and know they can talk to you about it.
Have you had to deal with worried kids?