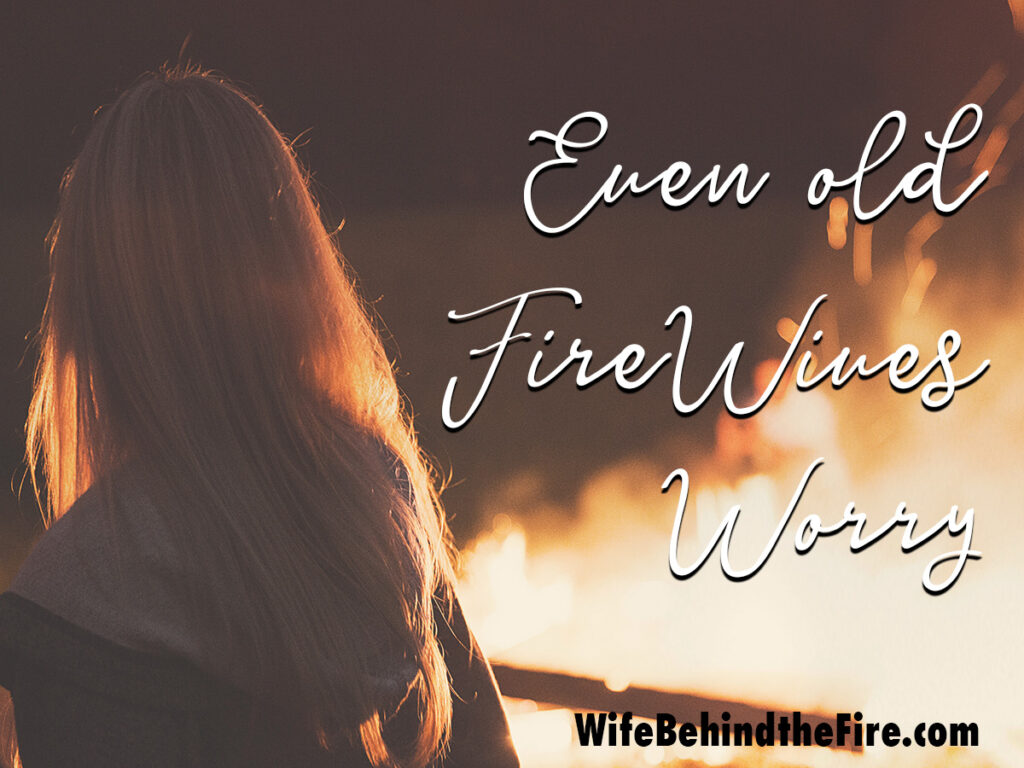 If you are new to Wife Behind the Fire, welcome. I'm excited you found the site and I really do want to get to know you better. I'm going to get a little personal here because I feel that leading by example works. Even us old firewives have to battle at times.
Each month in the FireWife Club, we do a challenge that helps us grow. For May, the challenge is to "Stop Worrying & Start Living".
It's a mindset dear to my heart. It's a big part of my motto (living with no regrets). Growing up with a worry wart for a Mom, I've watched all my life how it affects you and others.
I won't lie and say I never have worry. Worry is human and it's part of our survival instinct. It's not something you can get rid of, nor is it something you want to get completely rid of. But, there are so many things to worry about as a firewife that you really need to shut it down and take control of it.
This past week my firefighter went out of town for training for 8 days. 8 days!
Laugh all you want at me, but we haven't been apart for that long since he went off to college my senior year in high school. That would be 28 years ago lol We've had plenty of little trips apart; hunting, trips with the guys, trips with my girlfriends, staying with sick family, his conventions/trainings or my coaching clinics, but, never for over 4 days that I can remember.
I dropped him off at the airport, big kisses, big hugs, drove off and was immediately anxiety ridden and panicy. OMG I HATE THAT FEELING. I hate it as in I instantly don't know how to deal with that feeling and want to shut it down. My body tried to fix it and next thing I know, I'm doing my second most hated thing…crying.
WHAT THE HELL?!
I was "prepared" for this trip. It's great training and I've been excited for him to go and learn. Thanks to teens and college, we haven't been in a position to pay for a lot of the training he's wanted to go to and the dept was finally paying his way. He needed to get away with nothing else to think about. I had my track coaching and tons of work stuff lined up. I created my lists and my focus for the week. I was ready to rock this week of being alone.
And here I was driving down the highway in tears, feeling like crap. Every "what if" was in my head at once. Everything I preach here at WBF caved in on me at once. I'm not used to that much hitting me at the same time and it took longer than normal for me to suck it up.
Then, I put my big girl panties on and told myself to shut up and stop crying. Everyone talks to themselves right? No? Ooook, nevermind I typed that…so I thought to myself "self, suck it up" ROFL Seriously, those were not the words I said out loud. I don't talk that PC in real life let alone to myself 😉
I had to put into practice everything I've taught myself and researched over the years, all in a matter of minutes. First, WTF was making me antsy?
Will he get enough sleep at training?
Will he be safe if they go out?
OMG, a second plane just landed recently because of cracked window.
What if he enjoys the time without me too much?
Who's going to make sure he takes care of himself?
Will they have healthy food?
How are they getting to their location?
When will I hear from him this week?
Will it be a top priority to chat with me when he's surely going to be so tired?
Are you giggling a bit as you read that list? You can't possibly be laughing as much as I am laughing at myself as I type it. It's embarrassing to admit most of those statements and questions, but admit them I am. It doesn't matter that we've been married 24 years, stupid crap still goes through my head. I'm human and I'm female. I don't have control over my initial thoughts or reactions.
I worked through each issue as I let it pop up in my head. I told myself how ridiculous I was as I worked through some of them and then I did the most girly thing ever…retail therapy.
This all led me to picking the theme for May and digging in to write. There's no better way to write challenges than to be smack dab in it and writing homework assignments as you work through it. I was tested, so I could bring the work to you. I'm thankful I'm aware of things and emotions around me and can use it to grow and help you grow along with me.
While we don't have control over our initial thoughts, we do have control over how we process and continue to react.
I'm writing this blog post because I don't want you to think I've become some robot that is just used to my time alone. Yes, I'm used to shift nights and our quick 24's rarely bother me, even after an awesome vacation. But, this life still throws in odd 72's or this really odd 8 day and I have to practice what I preach.
I'm writing this because I want you to know the worry will always be there in some form. If not the firelife, it's going to be about our kids, or a job, or issues with the house, or our health issues with our parents. Take the steps to work through it and if you need help, we'll be working directly on it for the month of May in the FireWife Club.
How much does worry affect your every day?
Living with no regrets,

PS – if the Club isn't a good fit for you at this time, I encourage you to join the free 30 days to a Happier You challenge. While you won't get private coaching or mentoring to help work through the challenge days, there is a ton of information for you to get started working on yourself and your mindset.