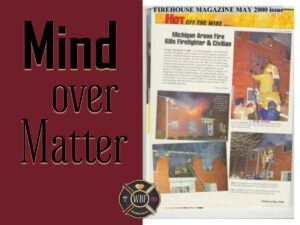 Mind over matter!  I find myself clinging to that mantra a lot as a FireWife.  Especially with the history my firefighter husband and I endured.  The past can never truly be buried deep enough.  It always seems to nudge it's way through my thoughts as I go about my day.  This morning, it hit me like a ton of bricks as I was getting ready for work while I thought of my husband on shift.  I had the windows open, letting a nice cool breeze in the house. Then, I heard the distinct sound of a low flying helicopter rushing over our home and my stomach dropped. My first thought was a Survival Flight chopper was needed on a scene.
On an unusually warm-for-Michigan-March morning nearly 18 years ago, my husband was a volunteer firefighter and became trapped in a flashover apartment fire started by a cowardly arsonist.  He and his partner went in to rescue an older woman, and upon their exit, the fire flashed over. They were trapped.  Sadly, the woman and his partner perished. My husband was airlifted by a Survival Flight chopper to the trauma burn unit where he stayed for six weeks. There were many surgeries, skin grafts, ventilator weaning and a firm discussion from his doctor that I should begin to plan his funeral. This was something I refused to do.   While at his bedside for those six weeks, I continually heard that unique sound of many Survival Flight arrivals. Each arrival bringing another injured person to the trauma burn unit.  It's a sound I can't seem to forget.  It's strange the things our senses hang onto for years.  Certain smells and sounds can trigger any variety of memories and moods, good or bad.
Miraculously, my husband survived.  He took nearly two years to recover. After which was hired at a new department as a full time firefighter, where he continues to work presently.  I had to be what I frequently refer to as "FireWife Strong" in supporting my husband's decision to continue in this line of work, knowing all too well the risks and dangers it holds and how life can change in the blink of an eye.  But, alas, I continued the mantra of "Mind Over Matter". I surrender to the thought knowing that I'd much rather live my life with a husband pursuing what he absolutely loves, versus living my life with a husband who surrendered his dream just to put my worry aside.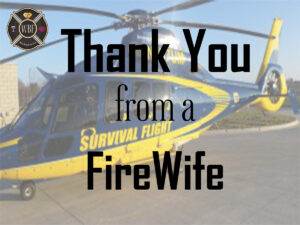 I am forever thankful to the countless people who assisted my husband in his recovery. I'd like to especially thank the  Survival Flight team that swiftly flew him from the fire scene to the burn unit.  As a FireWife, even while fully knowing (and experiencing) the risk of what can happen, we must stand strongly beside our firefighters. Supporting them in every way possible.  They were gifted with the ambition and bravery to perform such a task, and likewise, when we put our mind over matter, and focus on the good, we, too, exhibit amazing ambition and bravery as we become FireWife Strong!