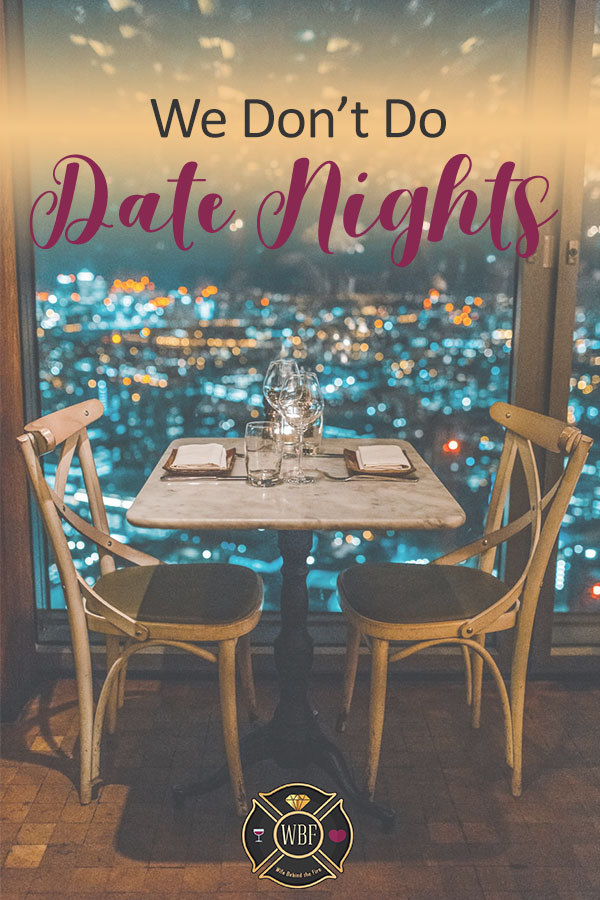 Early in our marriage I was a firm believer in frequent date nights. I had been lead to believe that a sign of a healthy marriage was a weekly date night. As you can imagine, this caused a lot of undue stress.
It wasn't long before I became extremely bitter watching my husband traipse off to his weekly fire meeting while I fought tooth and nail for my date nights. I felt betrayed by his enthusiasm and dedication to the fire department. I wish I could say we sat down and found a nice middle ground; we didn't. In fact, it reached the point where I just gave up on date night all together.
A funny thing happened when I gave up on date nights. I didn't miss them. I didn't miss the mad house cleaning I did in preparation for a babysitter. I also didn't miss the hour it took for us to drive to the nearest movie theater. Or the classic where do you want to eat at argument that accompanies almost every meal out.
I can happily say that slowly we worked on our marriage.  I let go unreasonable expectations.  My husband found a healthy balance between FireLife and FamilyLife.   Together we found the following  ways to spend time with each other. 
 We work together
If you have never had the chance to work with your husband then I suggest not doing it! No really. Without a doubt the steepest learning curve I have ever had in any relationship has been learning to clearly, efficiently and nicely communicate business needs and problems with my husband. It takes a new level of patience and understanding.
We Travel
This works perfectly for us.  It doesn't have to be too far off locals or even alone. Just last week we took the whole family on a quick road trip. Yes, we had the kids in the backseat but the majority of our time was spent talking just the two of us. A solid 5 hours each way of nothing but conversation.
Of course, a  vacation alone with your spouse can also do wonders.  I strongly encourage it whenever possible. Nothing can replace the time alone being just a spouse.  Instead of a spouse, a parent, an employee, a softball coach, etc.
We Share Hobbies
A shared hobby is a win-win. You not only get to spend the time together doing the actual hobby. But you also have the time to talk about the hobby, dream about it, plan it and shop for it. I will throw in a warning here sharing a hobby also requires a bit of flexibility. One or both of you will need to be prepared to compromise so that you can both enjoy the hobby.
We Meetup in The Bedroom
Nothing can replace physical contact. For me, this had been one of the significant problems I had with letting go of date night. I  connected date night with intimacy.  You go on a date then you come home and get frisky while wearing all your sexy clothes.
Yeah, now I laugh at that whole idea. I have since found out sexy clothes and dates are not a must for a killer bedroom fun. All you need is a good attitude and lots of practice!
 Today, we go on maybe a handful of bona fide dates a year.  In the future I know this will change; marriages have seasons. I never see us a date night a week type of couple and I am okay with that.   What's important is we have found what works for US in OUR marriage!
Tell me what works in your marriage; Do you go on regular date nights or do you spend time together in other ways?