I'm a FireWife. But, more importantly, I'm Val Selby and I'm happy you've found the site.
I've been a FireWife for most of our 24 years of marriage. It's crazy to look back and calculate that. We started dating in high school, which makes it seem like forever before he became a firefighter. Life took a bit longer for him to get to his (our) goal, but it helped us appreciate what he's accomplished even more.
The Site
I'm a resource for all things about being a happy(ier) FireWife. Resources to help YOU figure out who you are, who you want to be and to make sure you are happy so the entire house is happy. Sure some ways to help your firefighter. Issues to keep an eye out for because that keeps us happy too. But, firefighters are not my focus.
I want to focus on YOU FireWife. There are plenty of sites out there about the firelife from the firefighter's perspective and I don't have a problem showing you where to find resources elsewhere. But HERE, I want YOU to find what you need to rock this firelife and not be smothered by it.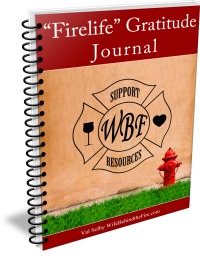 One thing that will help keep you balanced is finding the little things daily to enjoy. The FireLife Gratitude Journal can help you remember to do just that. It's damn hard to remember to focus on something wonderful when the kids have destroyed the house and you don't know when your firefighter will be home.
What you won't find on the site or anything attached to WBF is hero worship. I'm a firm believer that we should worship our spouses for many things, but their job isn't one of them.
Wife Behind the Fire isn't for everyone. I don't claim to know all the answers. I know that I piss people off by telling them the truth when they want things sugar coated and wrapped up with a bow.
The firelife requires you become comfortable with yourself and learning to live alone at times. If you don't learn to be the best you possible, the firelife can smother you out. This life takes work and it takes a support system. I've created a very unique support system in our WIVES ONLY facebook group. If you aren't afraid to put your big girl panties on and deal with issues head on at times, then you'll fit right in. If you need a place to vent now and again and enjoy a glass of wine with over 400 girlfriends, then we're your place 😉
I'm here to help you be a strong woman in your own right. A FireWife that is enjoying all the perks this life brings instead of worrying about all the things that can go wrong. Because we all know that shit will only hit the fan on a shift day!
The FireWife Part
I was a volunteer wife for 8 years. Raised our kids while he was working all those hours of construction, commuting, drill, classes and going on calls around that. Getting hired on in 2007 meant we got to see a lot more of him. But what an adjustment!
We went from 40-60 hour work weeks with a minimum of 10 hours commuting, one night a week of drill and other training here and there on weekends and then calls…to holy cow, you are home, like all the time home. There were many times I didn't feel married in those 8 years of being a vollie wife. I didn't have any connection with the department or other FireWives. But to be fair, I didn't even know to reach out. I was just trying to survive the day to day of having a young family.
Volunteer FireWives…I GET IT!
After getting hired, he was quickly off to academy and gone 4 nights/5 days a week. Studying the other days while he was home. Academy helped us get ready for 24's or 48's I guess.  Having him gone on shift was much nicer than not seeing him for 5 days straight. lol
Then the adjustment to shifts and sets. Trying to figure out vacations, holidays and hell, when is he working again? Family wanting to plan things and not quite knowing if he was working that day because I hadn't downloaded any apps yet lol
Career FireWives….I GET IT!
Being a volunteer and paid wife have different trials and issues that come with them. I bring a unique spin that I have put a few years into both.  I found my real friends when we joined the fire dept and he found the extended family he had always needed. Going through the LODD of our Chief cemented a fire family forever and made us appreciate even more what we have. I was already working on living a life of no regrets when it happened, but an LODD solidified my reason for choosing to do so. I won't ever look back and wish I would have spent more time with anyone or said something one last time.
Me
About me? Eh, you're going to learn quick. I am what I post. I'm not great at mincing words. I'm tired of PC and frankly it pisses me off. I'm not here to pad ego's or tell you it's all easy. I'm here to be real.
I'm honest but thankfully I've learned to temper it so it's not brutal. I'm also an open book. If you ask me a question, don't be surprised when I answer with what everyone else was thinking, but wouldn't say.
I speak my mind. I'm honest and quite confident in what I share. I've helped a lot of women by being one of the only women in their life that will be honest with them and tell them to put their big girl panties on.
I turned 40 in 2013. Our oldest graduated that year. I had a full hysterectomy that year. All of this made me lose my mind and here the site and group were created. 2013 was a huge year for me between health, family and online. This site and the fb group were created because I needed the connection to my FireWife friends around the world again. I missed the all night chats into the wee hours of the morning.
I'm comfortable in my own skin and not ashamed of my honesty. Hubby and I are emptynesters now and loving the fire schedule so we can do some trips. Both our kids are adults. The only babies left at home are my fuzzy, white 7 pound malti-pom Sweet Pea and the new baby Lizzy. She's FF's young Springer Spaniel. 
Life has been a constant change since 2007 when he was hired. Thankfully, I'm enjoying the roller coaster ride instead of fighting it.
Any questions, hit me up (Val..at..WifeBehindtheFire.com)
I hope we'll get to know each other better!