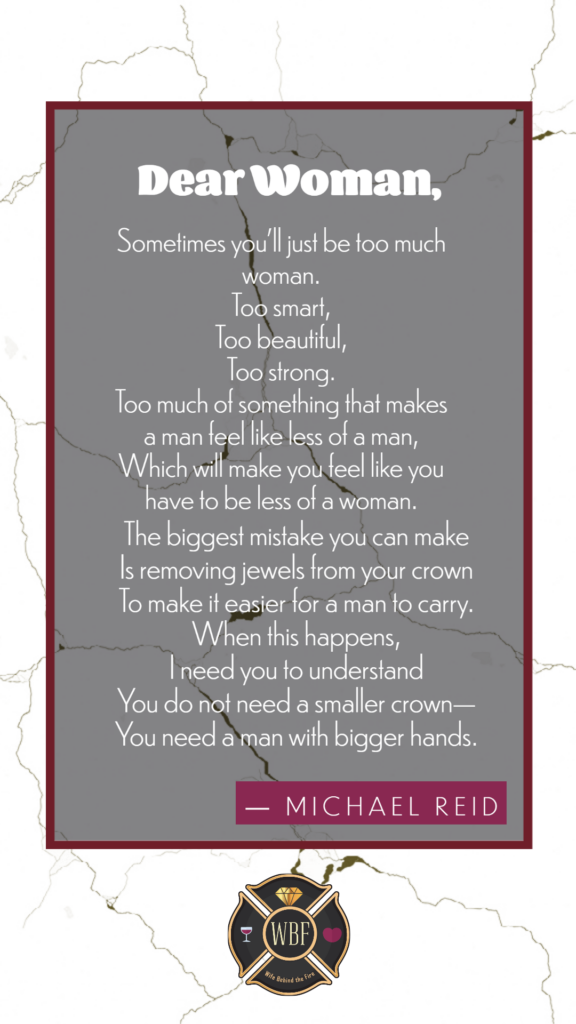 I don't like poems, but this one speaks to me with every single word. I know for a FireWife site it might be coming off as odd to be posting about it. The things in the poem are an internal battle I've gone through for decades and have finally won. It's how we raised our daughter and how I hope my future granddaughters are raised.
I know I am considered too much by many.
I've learned that I am perfect for those that are meant to matter in my life.
I know this because I was blessed to find a man willing to carry my giant crown 30 years ago. The reason that is important is why we are still together after all the crazy we've been through.
Someone had to be the queen of his domain while he was gone so much. My bold personality let me walk easily into that roll. You can add "too bossy" to that poem.
And yet even more important…someone needed to remind him how much a strong queen of the house needs her king by her side.
I've always been vocal about how much I and the kids need him. A constant reminder of why he needs to stay safe and want to come home. I keep him grounded. He's  entrusted me to take care of his entire world as he's away from it for longer periods than most spouses. 
I'll be honest, and sometimes it takes me a little bit to connect now with the new FireWives that come into the group…but I will. It's those that come in angry and bitter immediately upon joining that will take me a extra time to connect. I've done this firelife now for 20 years and the purpose of the site and group was to create what I wish I'd had back in the beginning. But I'm 20 years detached from the beginning and it's not always easy to put myself back there again. Sometimes I really don't want to.

The initial 7 years were as a vollie wife and he had no one else to talk to but me. We had some married years and dating year before the firelife started and I do think that helped a lot as we already had worked through (some) communication issues. We made this journey 100% together.

I married my high school sweetheart knowing he wanted to be a firefighter. It wasn't an option until nearly 30. We had littles at that point and the path to being hired was a shared path we both desired and dreamed of for him. But that doesn't mean it's easy because we chose it. We had no idea how it would change every aspect of our life.
Wives new to the firelife, I do KNOW your anger, but give me a second to remember. There have been so many happier memories since the bitterness of those years that I have to take a second.
I may come off as knowing it all and I don't apologize for that. I was a volunteer's wife for 7 years and a career wife there after, I've been through the agony of many years of trial and error. Running WBF for 6 years and talking to 1000's of FireWives online since 2007 has many scenarios run through my head for every topic that comes up.
I have been there and so have many others along side me and before us.
Debriefing, For Me?
I was his only debriefing on calls for 7 years while he was a volunteer. Being his debriefing when I was squeamish was hard. Many times I had my back to him doing dishes, tears streaming down my face as I listened. The first years I wanted so very much to say, "Don't tell me I don't wanna hear it!" I was his only person to tell and I learned to suck it up because we are in this together. I am his other half and if he is suffering I will help his suffering. Listening to his calls isn't half as bad as him being there and living it.
I understand a bit what compartmentalizing means and how it's necessary. It's something that happens, not something you plan out. I carry quite a few of his ghosts. I hope I've taken many of his ghosts away. I do not ask about these ghosts because I do not want to bring them back up after 20 years of service so far. I will gladly carry the sadness he's shared in hopes that it takes it off his soul. I know he has many more stories every shift now for every one I carry.
And this is when I turn to my FireWife friends to talk about how something may be bothering him or me. I know that I have a community to help instead of going it alone like I did for over a decade.
I love my position as a FireWife.
Not for the IAFF sticker or license plate on my car. I'm proud because I have a king that gladly carries my big ass, heavy crown and would never ask me to take jewels off it and change who I am. He recognizes that I'm also carrying his heavy crown.
I don't want to change what led him to want to be a firefighter. To wish different would mean a man that wasn't able to carry my crown and we wouldn't have made it this far.
I know it's because I've always been too much for many that I am able to come towards the end of his career and not resent all of the time alone or focus on things we could have done instead of the many things we have.
Living a life of no regrets,