One of the most common issues I hear come up w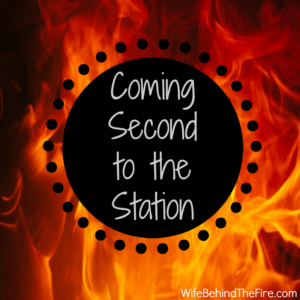 hen talking with firewives is the feeling that their firefighter is choosing the station over home life. The majority of the time, this is just not true. With good communication and a willingness to look at each other's needs, this road block can be easily overcome.
We were not always a fire family. We had been married five years and our kids were five and three at the time my husband joined his department.
Before he joined, I never realized what the extent of his responsibilities would be.
The tones go off and he goes to a fire. How hard can that be, right? Little did I realize there were also meeting nights, work nights, trainings each month, as well as various community service duties his station provides – like putting up flags on the power poles for holidays. It is very easy for him to tie up a lot of what used to be family time at the station.
When my husband would go out on a call, the kids would always wait to see the trucks come by our house heading back to the station. We would routinely head up to the station so the kids could watch the guys clean up and get the trucks back in service. It was our little routine, something they looked forward to, and it worked for us.
Life was good for our little fire family. Then, in the spring of 2014 we added a new addition to our family. After our newest daughter was born, firelife got a little rough in our household. It was not as easy to have two school aged kids throw shoes on and head out the door to watch clean up, trainings, or work night duties. There was a new little one who was napping, or in the middle of a feeding, or I was just plain exhausted and had not showered to leave the house. This was a hard adjustment for our older two kids.
It was harder for me to watch him walk out the door every Thursday evening for station duties. I just wanted to hand the baby off to him for a quick break, or for him to break up the older two kids' squabbles, or simply to just offer some adult conversation for the first time that day. I slowly felt the resentment start to slide in, in place of the pride I used to feel when I watched him drive off to the station.
It took a couple months, but he began to pick up on my feelings.
The sighs I thought were under my breath had been blatantly audible. I found it harder to bite my tongue, and the "Why do you have to go, can't you just please stay home for once?" slid out more times than I'm proud to admit. I resented the fact that he spent 8 to 10 hours a day at his full time job, and then got to come home and run off to the fire station alone. I felt like a single mom, and I missed my husband.
I distinctly remember one afternoon he looked at me and said, "Why does this make you so upset? I asked you before I joined if you would support me and you said yes. If this is going to make you that unhappy, I will just quit."
Color me mortified. That was not at all what I wanted. All I wanted was to feel like we were partners again, but I had done a poor job at communicating that.
Not a whole lot had changed for him after the baby was born. He still got up and went to work every day. He still had the same duties and commitments at the station. However I was tied to being at home more than ever, and it was hard for me to make that adjustment. We sat down that night and I laid it all out on the table.
"I feel like you would rather spend your time at the station than be at home with us."
Of course, his response was that was not at all true. He assured me that it was hard for him to walk out the door and leave us, including our baby at home. He wanted nothing more than to spend his evenings rocking her and spending time with us all. He told me that nothing had changed at the station, his responsibilities were the same as they had always been. He could not understand why they were an issue now.
It was not that I felt his station life had changed, but that I needed him to realize our home life had. It used to not bother me if he stood around the station shooting the wind with the guys for 30 minutes after a meeting because putting two school aged kids to bed alone was a cake walk. But now, those 30 minutes could be used bathing the baby, or tucking the older kids in while I managed to squeeze in a shower for the first time in two days. If I had been able to communicate the change in my needs at home, rather than bottle it up and let the resentment take over, things could have easily changed a long time ago.
Communication is key in firelife.
If you feel like there's a shift in your relationship, speak up. Probably the most effective communication tool I've learned over the years is to not come at my husband in an accusatory manner. If you feel like he is spending a lot of time at the station and putting family or home life second, sit down with him and let him know how you feel.
Set up some compromises. Do you need him to come right home after meetings are over? Would him agreeing to order dinner in after training nights be easier on you instead of stressing over getting a home cooked meal made with three little ones at your feet?
Create a balance that works for both of you. He does not know what goes on when he is not home. If something is not working for you anymore, you both need to sit down and reevaluate.
I absolutely did not want him to quit the department simply because his absence was more stressful after our daughter was born. We just needed to adjust for the new normal in our life. I could not imagine asking him to stop doing something that he loves so much. Once we made some small adjustments, I can say that fire life is much more enjoyable again and it's so exciting to see a new little one get excited about her firefighter daddy.
Has this issue presented itself in your relationship? If not, what has been the biggest issue so far dealing with firelife in your relationship?