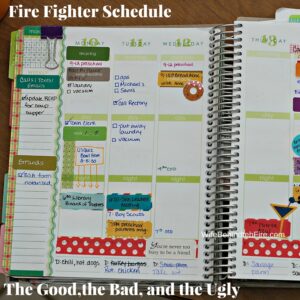 We all know the FF schedule is a special thing to work around and the FF wife must be the ever flexible person to make it all work smoothly for your family. Let's discuss the good, the bad, and the ugly aspects of their unusual schedule and how to work around them.
The Bad…
Sometimes I only see my husband in passing. As a firewife that works a full time, traditional 8-5 M-F schedule, my FF's schedule of 24 hours on and 48 hours off means that I'm often passing him on my way to work. Most days we are lucky to get about 15 minutes together just as he gets home. We basically say hello, hug, relay some information about the kids, and then I rush out the door. Other days, we just wave as we pass each other on the highway.
15 minutes is far from quality time! And its never enough time to actually discuss an issue or create a plan. Its more like single parenting done in shifts.
When the elusive quality time does happen, who wants to spend it discussing an issue? I just want to talk, relax, and have fun with my FF. But then nothing gets accomplished as a team.
So you must schedule a time to discuss your family's needs together. Manage your marriage a bit like a business and schedule a family planning meeting separate from your elusive quality time. Don't let it replace your fun quality time though! You need both to have a happy marriage.
The Ugly…
Its not the same days every week. No matter what you are trying to arrange (childcare, doctors appointment, etc.) Someone is always asking what days of week work for you? You know as well as I do how hard it is to answer that question because its not M, W, F every week. It may be Monday and Thursday of this week and then Wednesday of next week. What works this week, doesn't work for the next week!
Or if your husband is volunteer, you may plan an appointment and find yourself canceling or rescheduling it last minute because he has to rush out on a call! Don't feel guilty for changing that appointment again!
This is one of those things that you cannot change. Just try to be flexible. Ask for help from your friends, family, or fellow FF wives to get you through those unexpected moments.
The Good…
Unless your FF has a second job, the nice part about the FF schedule is those longer stretches at home like the 48 hours that my husband is off shift. Since my son is only in preschool, this means my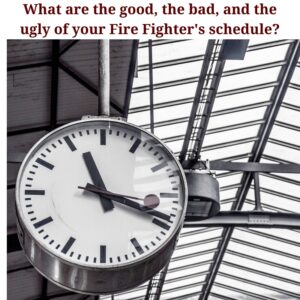 FF actually gets more time with our son.
I may be working during the day, but FF stays home with our son a couple days a week. He gets to be the fun Dad who's home to play when Mommy is working. Its wonderful for my son, but I can't help but feel a little bit jealous and wish I was home too!
Since my schedule is also quite busy, my FF is kind enough to help out with errands when he's home or have the occasional dinner ready when I'm getting home from a long day of work. I'm grateful for my FF help around the house.
Every FF schedule is a little bit different. What are the good, the bad, and the ugly of your firefighter's schedule?