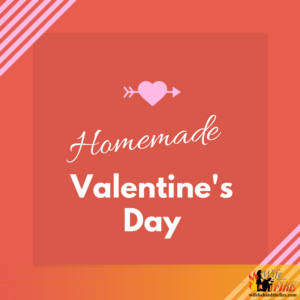 Love. Amore. Liebe. L'amour. It's in the air, Valentine's Day is almost here.
Valentine's Day is not a huge event in our house. We have some friends who go all out – diamonds, new watches, extravagant dinners. That's just not our style. We do take the opportunity to show a little more appreciation on February 14th, whether it's a small gift or a special meal. In our family, it is more about the thought of the gift or the time we spend together rather than the size of the gift. After all, we are just coming out of the holiday season. Expensive material gifts are not a huge priority for us on Valentine's Day.
If I am going to give my husband a present for Valentine's Day, I like it to be homemade. A craft that can serve as a remembrance of a favorite memory, or something that shows I pay attention to his favorite things and want to treat him with them. He enjoys receiving these kinds of gifts just as much as I enjoy giving them.
If you are in need of some creative ideas for Valentine's Day gifts that won't break the bank, I'd like to share my three favorite homemade gifts for this holiday.
Date Night Box
There's nothing like a gift that keeps on giving! A date night box will keep the romance alive all year long! There are a couple different ways you can approach this gift. It all depends on how often your schedule allows for date nights. I like to find an elegant, yet still manly box to use for this gift. Maybe a small wooden box, or a leather one would be nice too. Make a list of creative dates that your husband would enjoy – I like to throw in some things that I typically would balk at participating in, just so they are extra special for him. A night at the driving range, dinner and a movie that are both his choice, and a trip to the gun shop to look around are all dates that I've included in a date box. I type up my dates on nice cardstock and place them in the box. I carve out time once or twice each month and let him pull ideas from the date box. He always enjoys the spontaneity and being able to do things he likes to do.
Snack Basket
Another huge hit! These would be a great idea for you to whip up, and your firefighter could take it with him to the station for duty days so he always has some of his favorite treats on hand. I typically fill a snack basket with a couple of his favorite candies in bulk bags, a six-pack of his favorite beer (if your firefighter isn't a drinker or you want to send it with him to the station you could always do soda or a fancy bottled water he enjoys), a box of his favorite cookies, popcorn, a trail mix, etc. I like to have a good mix of sweet and savory goodies so his snack cravings are always covered. If I'm sending it to the station I like to include it all in a nice canvas tote or storage box so it's easy for him to keep in his area.
Note a Day Jar
Another gift that really lasts all year long. For this gift, I like to use a wide mouth glass jar or a nice vase that he can shake and get his hand down in. Again, I like to print this on a nice cardstock and cut into strips. I type out 365 notes – one for each day of the year until next Valentine's Day. 365 things seem like a lot, but I include things like favorite memories, reasons I love you, song lyrics, inside jokes, quotes that make me think of him, etc. You'd be surprised how quickly you can fill your list. I set this on his bedside table and each night before bed he pulls one out. It allows for some nice conversations as we lay down in bed for the night. When I've made these for him, I've found we really look forward to those few minutes to reflect on the message he pulls out.
What are your plans for this Valentine's Day? Do you celebrate the holiday at all? Do you go big and expensive, or keep it simple and heartfelt? What are your favorite homemade gifts you've given for Valentine's Day?