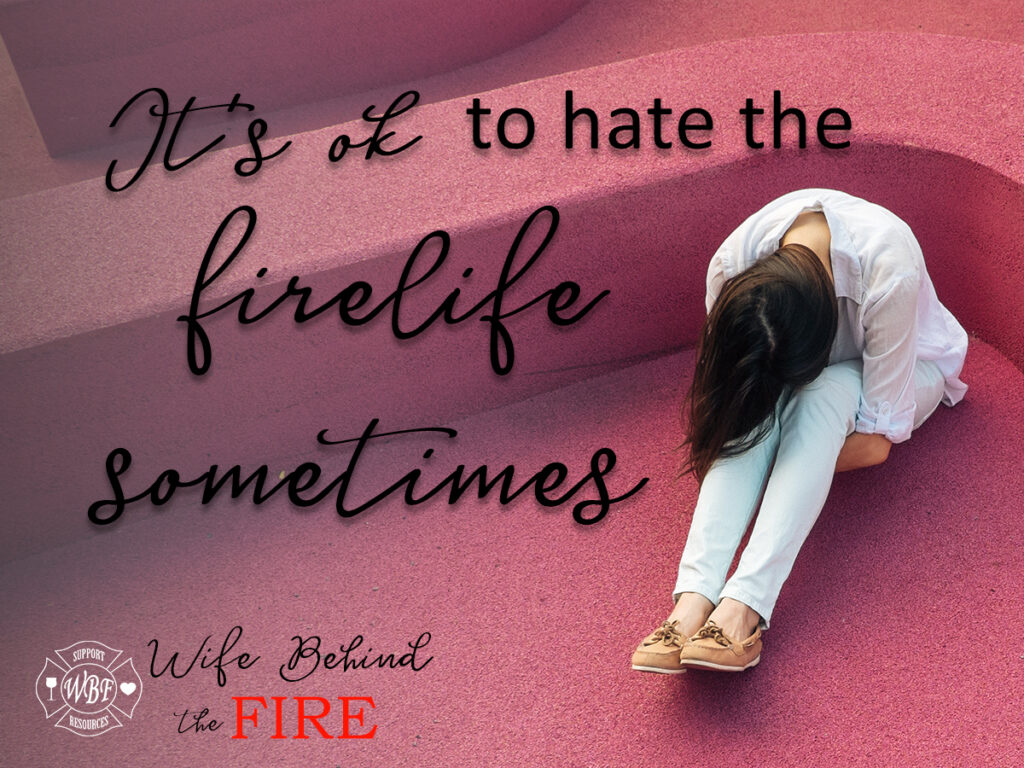 If someone told you that you were going to meet a great guy, you would fall madly in love and get married, I bet you'd jump feet first right into that fairy tale story. But what if someone told you that the great guy would come with a whole shitload of crap? Would you still jump in?
I did, and I thought it would be no big deal, we'd figure it all out. Honestly, most of the time we do. But, guess what? Sometimes it really really sucks. And guess what else? That's ok! I'm telling you right now, wholeheartedly that it is ok to not love this firelife all of the time, it's even ok to downright hate it.
I'm married to a volunteer firefighter, so he's gone his normal 40+hr work week and then I have to deal with him running out whenever a call comes in after hours. I have to admit that sometimes, he's gone more often than he is home, and it has messed up my plans more times than I can count. It's been like that since we met. I met him on a call at my house and the rest was history. We thought it was going to be so easy and fun, what kind of naive morons we were.
We had a day a few years back where I almost called it quits on this lifestyle. It was a rough time right after Christmas. My mother had just suffered a stroke so we were dealing with the aftermath. We had two kids aged 3.5 and 1.5 and I was nine months pregnant. Yes, I know where babies come from, and yes I know how crazy I must seem. But, we were having a rough time, not because of us, but because of everything going on around us. And then it happened, a huge structure fire came in, and just like that, he was out the door and I was on my own. It was one day in a long, long, long ass list of days where I was the one left holding the bag.
It sucked. The day dragged on, full of unmet plans, toddlers puking, dogs acting batshit crazy for reasons I still don't understand fully, and unmet expectations. I knew something was wrong, but I didn't realize until that day that it was me that was wrong. I kept thinking that I needed to make everything perfect; I needed to be in love with my lifestyle, I needed to be the dutiful firewife, I chose this life, and I needed to love every second of it. Isn't that what all those books and memes tell us? Love your life? Live your best life? Live in the moment? I call bullshit. In that moment, I hated this life.
I hated the fact that he was out at a call, again, and that I was stuck at home holding it down for us all. I hated the fact that we were living out our lives around the fancy of that damn pager and when it decided to blow the roof off of my plans for the day. I hated the fact that I never knew if he would make it home on time, or in one piece, or even at all. In that moment, I hated it all.
But, one awesome thing happened at the end of that day. When taking the inventory of what I had managed to get done, or not get done that day, I realized that none of it mattered, but also that it all mattered at the same time. It didn't matter that I didn't get the laundry put away, but it mattered that the kids and I made it through the day. It didn't matter that I didn't have time to make the fancy dinner I had planned, but it did matter that the kids happily ate the somewhat healthy dinner I managed to throw together. It didn't matter that he had run out and left me at the drop of a hat for over 14 hours, but it mattered that he came back. The day had been a write off, it had sucked, but I realized that chances are that there will be countless more days like this in my lifetime.
I know that my husband plans to be a firefighter until well after he is old and grey, let's face facts here, he's already old and grey, but you get what I mean. This is a long haul kind of a thing for him, and he is kind of a long haul thing for me, so I had to figure a few things out if all of this was going to work. I had to realize that this lifestyle was going to suck, not all the time, but it was surely going to have its moments.
I know that there are people out there (no one who lives this) who think that it's all sexy firemen, and chili cook-offs, but that has seriously been the opposite of what I have come to know. Yes, he's still sexy to me, but you get where I'm coming from here. It's not exactly the life I had in mind when we started this whole thing 12 years ago. But, I still chose to live this life with this guy, and that means that I needed to be ok with the fact that it's not always going to be sunshine and cookies. Sometimes it was going to be leftovers in the oven and being left in the grocery store. But hey, I get to shop without him throwing gross shit in the grocery cart.
It is going to suck, you are going to hate it sometimes, and once you admit that to yourself, you will feel a hell of a lot better about the whole situation. You chose this man and all that comes with that choice, so choose to be ok with things being shitty sometimes.
I'm not saying that you should choose to have your kids suddenly catch the stomach flu the minute he walks out the door. Curse him under your breath like I do, but then get back to it and move on. It sucks, that's ok, feel it, and then move on to the next thing and hopefully that one will suck a little less. Let yourself be ok with the fact that it's not always going to be the perfect day you had planned. But, understand that you have the choice to be ok with the fact that it might suck. And trust me, it's a hell of a lot easier to get through that bit of time when you are choosing to be ok with hating the situation.
I know that as soon as I gave myself permission to dislike certain parts of all of this craziness, it became easier to like other side of it. I liked having a bit of quiet when he goes on a call after the kids are in bed. I liked the fact that I could have him grab ice cream on his way home from the hall without feeling guilty for making him go out in a thunderstorm. Who doesn't love guilt free ice cream?
The key to being ok with hating the lifestyle sometimes is to also understand that it doesn't always suck. You are not going to hate every minute of this lifestyle, sometimes it can be a pretty sweet deal. You just have to let yourself see the shitty parts and understand that they will always be a part of this life, but that there is also greatness to this lifestyle. I wouldn't change it. Except for the fact that I wish the kids would throw up before he leaves, just once!