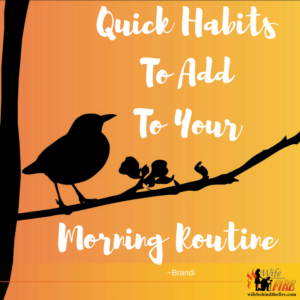 I am a firm believer that the only difference between a good day and a bad day is the attitude you approach each new morning with. This is absolutely true for me and my family. It can be so easy to give in to the tiredness and allow bad habits to sabotage your day. My key to a successful morning is creating positive habits and sticking to them.
Mornings with three kids, two of which are not morning people, can be quite hectic for me especially on school days. My volunteer firefighter works a first shift full-time job and is gone most mornings by 4am, leaving me to get the rest of us ready for each day. I am more of a night owl and really don't function before noon most days if I don't maintain my morning habits.
Most mornings I am up about 45 minutes before my kids. It takes me a good ten minutes to talk myself out from under the warm sanctuary of my blankets, but once I'm up I immediately hit the shower to start my day. I can better concentrate on getting my kids ready for the day if I am already prepared myself. Next on my list is getting my oldest two up and ready for school. Luckily we live one small town block from their school so we have a little more leeway. After they are out the door, it's usually a full day of activity with my toddler.
I have adopted a few habits over the years that allow my mornings to run smoother. These are always the tips I give whenever I am asked how to make mornings easier to manage.
One of the most important things I do for myself and my body is to wake up at the same time each day. This one is mostly true for school mornings. Obviously on weekends, I like to sleep as late as the kids let me, but for the most part, we don't sleep in much longer than we do on school mornings. Once your body is used to waking at the same time it is easier to keep a normal sleep routine. Before you know it, you probably won't need an alarm to wake yourself up anymore. I keep one set as a backup, however, most of the time I'm up about five or ten minutes beforehand on my own.
Even on days I am up at my normal time, I find it really hard to get going before I get in the shower. For me, a nice hot shower is the kick start my mind needs to get going every day. Even if I don't have plans to leave the house, I get more done at home after a shower. It may seem counterproductive to shower then clean my house, but it's what works for me. If I'm lounging around in my pajamas for hours on end, I just can't find the motivation to get up off the couch and get things done.
It is imperative for me to get a jump start on school mornings for them to run smoothly. This includes making sure breakfasts and schools snacks are ready to go. My little stragglers don't do well sitting down at the table eating breakfast, so I need something they can eat on the go. One of our go-to's is having breakfast sandwiches already prepared and ready to be microwaved the night before. Snacks they take to school are laid out the night before, as are their outfits for the day. More time is wasted in our house arguing over what is appropriate for school than any other morning task.
Despite your best efforts, some mornings will just be chaotic. The lost backpack, oversleeping through your alarm, a sick kid. Bumps in the road are inevitable. Some days you have to create your own sunshine — if you keep positive habits in the morning those bumps are easier to handle.
What does your morning routine look like, with or without kids? What are some things that you do to help get your day jump started?