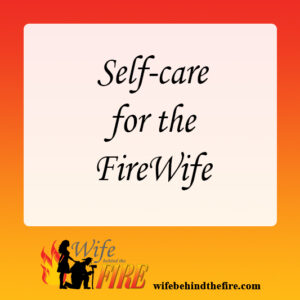 So, we know it is important to take care of our relationship with our partner. We know it is important to make sure our firefighters have access to and utilize resources for things like depression, anxiety, depression, you name it. What about the FireWife?
It's very easy to forget to take care of yourself, and sometimes to even see the value in taking care of yourself. Your firefighter is gone a lot, and when he is home, you don't want to burden him with your "little" problems, when he's likely had a night of blood, guts, and mayhem. You know you need to be super mom and get the kids (biological and/or furry) where they need to be when they need to be there. You also want the house to not be a candidate for being condemned. I get that, I totally do. As seen within the various firewife groups I'm a part of, depression is rampant for those of us on this side of the fire life.
In general, I'd say women are prone to bouts of depression. We have hormones that like to go crazy, children and pets that make us crazy, and the amazingly awesome job of trying to be everything to everyone – you know, bring home the bacon and fry it in the pan. Who gets neglected in all of this? The firewife herself. She forgets to take a few minutes for herself. She pushes away the thought of spending time or money on herself. Sometimes money isn't an option, of course. I completely understand that. However, time is a commodity you can't afford to not to take for yourself.
When your firefighter is on shift (or out working a call, for you volunteer firefighter wives), let the dishes slide for a bit. Paint your toenails, read a book, watch a movie of your choosing, or heck, surf the internet. Whatever you do, don't sit around and fret over him being out there, doing his job. Check in with your support groups, like WBF, etc. Find something positive to say or do. No matter what, every single storm cloud has a silver lining. We all hit rough patches, and we all have skeletons in the closet, things from our past that haunt us or even terrorize us. The only way you are going to survive this life is to take time for you.
Figure out what makes your heart happy, and do it. Take care of you. You can't possibly take care of anyone else if you aren't taking care of you. When things get to be too much, turn to others for support. One of the amazing things about finding a group like WBF is that someone is online at nearly any time of the day or night. You are never alone, and someone, somewhere will listen and help ease your burden. Someone will be there with a snarky meme, a cute baby picture, a goofy pet picture, a hilarious story, something, anything to distract you. All you have to do is care enough about yourself to ask them for the distraction.
Self-care is definitely a struggle for me. I commute nearly 1000 miles a week, just going from home to work and work to home. That doesn't account for the Minion's school, daycare, or sports. That doesn't account for my mom's appointments, my appointments, or Minion's appointments. My house is nearly always in chaos, and I'm the type who needs structured chaos. So, then I spend the little time I have between work/commuting, Minion, and school (thank goodness for online classes!) trying to be a good little housewife. I cook, I clean, I organize in my precious little free time. Firefighter does stuff around the house and takes care of the yard, but no matter what, I tend to feel guilty if I take time for me – and I know I am not alone in this. A year or so ago, I started making myself get pedicures (I hate having my feet messed with), but even that became stressful. Friends would get hurt they weren't invited, friends wanted me to schedule around them, etc.
Another part of self-care is learning to say NO. It's perfectly acceptable to say that little 2 letter word. No, I won't turn my schedule upside down for your whim. No, I won't babysit your children. No, I won't bake for the bake sale this time. Overextending yourself is not taking care of yourself. It's certainly tempting, especially if your firefighter is gone a lot. You want to fill the void. You don't want to sit around and be bored or worry or whatever else. Yet, if you don't allow yourself to rest, you're setting yourself up to crash and burn later, most likely on your firefighter.
In the end, love yourself enough to take care of yourself. Put your needs first sometimes. It's okay – we all do it or need to do it from time to time. It really will make you a better partner for your firefighter, I promise.