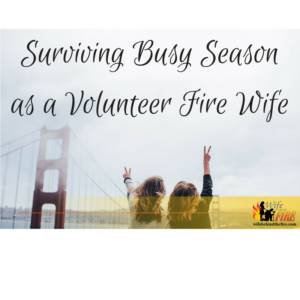 We all know the firelife can be stressful. Long shifts at the station. Volunteers leaving at all hours of the day. Regular training days, meetings and clean up nights. Extras like conferences, parades, and holiday events. It doesn't take much for a volunteer wife to feel like she's been given a back seat pass to her firefighter's life. Add in a few scattered injury accidents and fire runs and you've got the making of two ships passing in the night. If you don't watch yourself, you could miss him completely.
Busy season as a volunteer fire wife can be l-o-n-e-l-y. And I am toe to toe with it over here. Right. Now.
The volunteer fire service is like a series of never ending potholes for wives. Most of them you maneuver fairly easily, but others cause a flat tire. Structure fire. Injury accident with entrapment. Full Code. It can be all too easy when you have a flat to sit down in the pothole with self-pity and selfishness. I try my best to avoid doing that, but there are times I fail. Miserably.
So, with that said here are three ways I try to avoid the sink holes. Err, I mean potholes of selfishness during busy season.
Get involved
Get involved in the department. Offer to help with menial tasks the guys may not like to do or have time for; like soliciting donations for that big annual fundraiser or writing thank you notes to donors. Ask them how you can help lighten their load. You may be surprised by how excited they are that you offered.
Clerical tasks not your thing? Feed them a meal. Shift nights, meeting nights, training, clean up night…should I go on? Firefighters love to eat and they love good eats. The fastest way to your department's heart is through their stomach. Trust me. If you want 'hero wife' status then feed them good eats.
Can't cook? Don't have time to? Try doing something simple like making a fresh pot of coffee and setting out some store bought snacks for when they get back from a run. They'll be hungry, tired and forever grateful for your kindness.
Get connected
One area that is near and dear to my heart is the fire department auxiliary. If your department has one and you are not a member then sign yo'self up. What are you waiting for? You get to meet other wives and families in the fire service and come together for a common purpose. Added bonus, you may even start to form bonds with some of them. And let me just tell you, sister, those relationships if you let them grow, will be the biggest blessings in your life. No one will ever understand who you are and what your family is about than someone who has walked through the fire life with you.
If you don't have an auxiliary then get some wives together to do some research, set some goals and start one up! All you need is one person to take that first step. Take the step. It'll be worth it.
Get Loose
Not the dancing kind. But, if dancing helps you relax then by all means turn the music up and get down.
But, what I actually mean is loosen up. When you feel like you're drowning in the chaos; stop and take a moment to breathe. Do whatever you have to do to find your center. Have a drink, eat some secret stash of something, take a long trip to the bathroom if you have to and lock the door. I have no problem caging the toddler for 5 minutes in a safe zone while I steal a coffee break for myself. Whatever helps you to relax, do it.
Really though, the key to surviving a busy volunteer season is to lower your expectations and be flexible.
I don't know about you, but 100% of the time when I am disappointed in someone it is because I placed unspoken expectations on them. Speak up if you have an expectation of your firefighter that he is not meeting for you. He won't know that you need a quiet night at home without the pager or date night outside your jurisdiction if you never tell him.
I'll say it again for good measure: be flexible.
Fire runs are gonna happen. And they will happen at the most inopportune times. Always. That is a fact that will never change. Apartment complexes will burn on Thanksgiving. Injury accidents will happen at dinner time. Full moons will align and send houses up in flames when you have an entire van to pack the night before you are set leave at the crack of dawn. You can adapt and you will survive if you stay flexible and keep your expectations low.
Above all remember this: you were made for this life. No one can be your spouse's wife better than you. No one else can raise up your kids amid the chaos but you. And absolutely no one is more qualified to be who you are more than you. Get involved, get connected and loosen up those reigns.
You've got this.
Tell me, what works for you. How do you get through a busy volunteer season as a firewife?