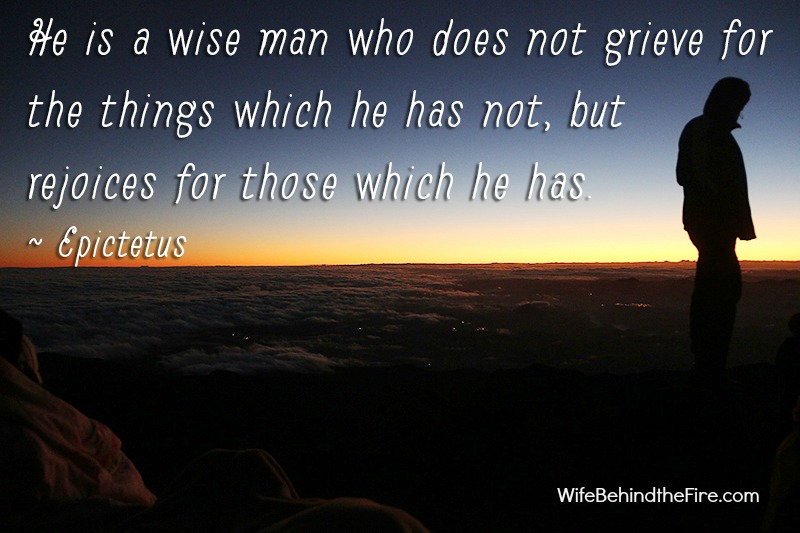 One major way to change how happy you are in the firelife is to change your expectations.
Expectations can be  a good thing. They keep us all in check. They teach our kids how to act. But expectations need to be realistic.
Are you judging your life by how others are living their's? By what they have and how their life looks from the outside?
It's easy to get caught up in. You look at a couple/family you really like and think how damn easy their life is and how perfect.
No one's life is easy or perfect. Not a single persons. So while they have some awesome aspects you would really love in yours, don't forget they have other things plaguing them that really suck.
Just like you can't look at your own life and only see the bad, you can't look at others lives and only see the things you wish you had like them. It's easier said than done.  Believe me, I type these words to remind myself. I've lived many years looking at some people I really like/love and wishing I had it so "easy". If I stop and look, yes, I'm jealous of many things they have or do…but they have gone through heartache as well.

Seeing other non-fire spouses at every evening event at school or sporting event can be rough. But then my FF was lucky enough to be able to go to nearly every high school sporting event for both kids after being hired on. That never would have happened when he was still working construction.
Many FF's can help out in the classroom and even coach their kids because of their days off. Sure it's hard to be the one alone at events… but look around at the other spouses alone. Firewives aren't the only wives alone. Don't be a martyr and think we're the only ones doing it alone on any given day . You can find some friends quickly this way.
How to change your expectations
List things that you are happy you've accomplished – stop and look hard at all the things you have accomplished in your life. Add every big and little thing. I mean every thing. This spot celebrates you, you earned your celebration.
List everything you have – It's easy to forget just how much you have. Cars, house, camping equipment, furniture, plenty of food…add it all.
List everything you love about your spouse – I shouldn't have to add to this idea. If you can't find many things you love about your spouse then get your ass to therapy NOW.
List the people in your life that make you smile – the checker that makes you laugh, why your spouse does, the crazy things the kids do, your furbaby's funny ways?
Now how many women do you think would love to have most of the items you just listed?
I can guess quite a few. In fact, I guess the majority of women would love to have the things you wrote on your checklist.
So now the hard part…focus more on the lists you just made. When life turns to crap and it will, pull the checklists out and remind yourself of all that you have and how this bad day will pass.
You can click on the journal page image and download it to use. It's also in the files to download in the firelife gratitude group. All part of the Firelife Gratitude Journal challenge. 🙂 I'm challenging YOU to focus more on the good in your life.