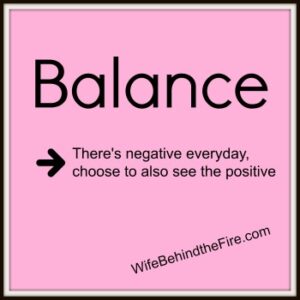 If you are in any of my groups you know that balance is important to me.
It's rule #1 in the groups.
Nothing will set me off faster than checking into the groups multiple days in a row and seeing nothing but negative posts and complaining. It makes me not want to check in to my own groups that I love. If it makes me feel that way when I'm so committed then I know it's chased other people away from checking in.
Balance to me is seeing the positive right along with the negative. It doesn't have to be a silver lining. It just means that when you have negative stuff going on, you find something good in your life as well. The joke on the group is posting,"I like puppies". But really, it's that simple. On the group if you post a negative, you must start a new post about something positive.
Once the negative posts get rolling, they get worse until I explode. Can you guess that's coming up here soon? lol No one and I mean no one can sit and not think of something good in their life. If you can't appreciate the fact that you have a roof over your head, a dog to cuddle and a healthy family, well then I suggest some counseling.
Our firefighters see a lot of shit on a daily basis. Some bring home a lot of problems. Many wives have problems they bring on top of that. It's not healthy to focus solely on all of the negative. You must balance by reviewing what is good in your life. If you don't, the firelife can eat you alive.