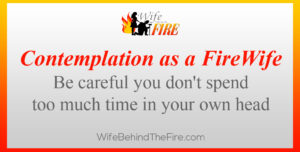 As a FireWife there are many times you are in contemplation.
With all the time alone, it's difficult not to be. It's easy to get in our own heads. Way too easy.
Just be careful how much you are hanging out in your own head. Contemplating things so you can tackle them is one thing. Being in your head so long that you make mountains out of molehills is another.
When you find yourself thinking and possibly overthinking, get to writing. Jot down what's going on in your head. Then get to journaling and converting your thoughts to something more productive. Give the FireLife Gratitude Journal a try if you need prompts and encouragement.
Hopefully your contemplation shows you how much joy you do have in your life.